Facebook has found itself on the wrong side of the July 4th holiday buzz as the grandparent-approved social network has had severe server problems.
On Wednesday morning (US time) the social network confirmed that there was an issue that was causing users to have problems loading media files. Instagram and WhatsApp have also been hit with outages.
We're aware that some people are having trouble uploading or sending images, videos and other files on our apps. We're sorry for the trouble and are working to get things back to normal as quickly as possible. #facebookdown

— Facebook (@facebook) July 3, 2019
According to monitoring site Down Detector, however, the issues go well beyond problems with image and video uploads. The site noted a significant uptick in complaints and reports of users being unable to load pages.
An outage map showed that most major US cities were reporting problems.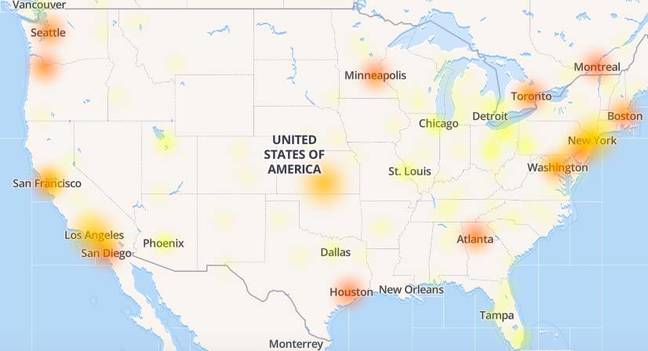 The issue is not limited to the US, either, as users in Asia and Europe are also reporting problems accessing the site, as well as accessing their photos and videos.
The unscheduled downtime comes at a particularly bad time for Facebook, as many of its users in the US are preparing for Traitor's Independence Day celebrations, and are likely relying on Facebook to coordinate parties and share updates on their plans with friends and family members.
The outage also comes amidst what has already been a tough week for the house of Zuck. On Monday, Facebook offices were temporarily evacuated while fire and police were called in after a parcel in the Facebook mail facility tested positive for the deadly sarin nerve agent.
It was later determined that the package in question was safe to handle and the initial tests were a false positive. ®
Similar topics