This article is more than 1 year old
Facebook outage a peep at platform's ML tagging conventions, Baidu links up with Intel and Huawei on AI chips, and more
Animal-AI Olympics worth a few $$$ if you fancy it
Roundup This week in AI, Facebook inadvertently showed us how it tags pics for machine learning, Baidu pushed out auto auto code to world+dog as well as announcing deals with Intel and Huawei, and there's $7,500 to be won for anyone who can whip up an animal-like intelligence.
So this is how Facebook tags images using AI?: In the midst of Facebook's outage this week, users found evidence of how the social media platform might be tagging images using machine learning.
Facebook, Instagram, and WhatsApp were affected by several issues. Images failed to load on the platforms. Instead of all the horrendous selfies or holiday snaps, people were faced with blank grey squares with a line of text at the top.
The text hinted at what was in the image, leading users to speculate that this was how Facebook's computer vision models was labelling the photos, The Verge reported. It doesn't reveal much beyond "Image may contain: X." X could be anything from a flower to sky to shoes, and guesses the number of people in the photo.
Baidu open-sources Apollo V5: Chinese tech conglomerate Baidu has published code to help advance self-driving car efforts as part of its Apollo endeavour.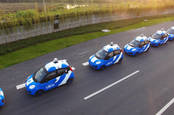 Q. Why is Baidu sharing its secret self-driving sauce? A. To help China corner the market
READ MORE
The open-source project was launched two years ago with the hopes that other software or automotive companies, especially in China, would use Baidu's code. A spokesperson previously told El Reg that there aren't many Chinese companies with the resources to pursue self-driving cars and the country would fall behind in the technology.
The latest source code supports cameras that provide 360° vision and AI models to help cars handle different weather conditions. It can also pull over for valet parking and navigate through tricky intersections.
You can download it here.
AI at Baidu Create: The firm also held its annual AI developer conference, Baidu Create, this week in Beijing and announced a number of collaborations, including one with Intel and Huawei to support machine learning chips.
Intel has been dragging its feet in pushing out hardware focused on training large AI models. It announced the NNP-L, since renamed NNP-T (the T is for training), last year. There's not much information on the NNP-T – but we know it's an ASIC.
"Baidu is working with Intel on the development of the new Intel Nervana Neural Network Processor for training (NNP-T)," Naveen Rao, veep and general manager of Intel's Artificial Intelligence Products Group, said this week.
We'll have to wait until the chip comes out later this year to get further clarity on what it is that Baidu is helping Intel to do.
Baidu is working with Huawei too. The software in Huawei's mobile phone Kirin chips will be written in PaddlePaddle, Baidu's open-source AI framework. PaddlePaddle will be integrated with Huawei's own mobile AI toolkit, HiAI, according to Synched, so that common AI models can be run quickly on Huawei's hardware.
Animal-AI Olympics?!:There's a cash prize worth up to $7,500 (~£6,000) for anyone who can develop an AI agent that has animal-like intelligence.
The competition, dubbed the Animal-AI Olympics, is a series of tests "inspired by animal cognition." Animals are driven by their hunger for food. Bots will placed in different virtual environments and have to face a number of obstacles to obtain food. The food isn't real, obviously, and is a reward that motivates reinforcement learning agents.
The agents will have to explore their environments in order to navigate to the food. Along the way, they'll be tested on spatial and causal reasoning.
"Participants are given a small environment with just seven different classes of objects that can be placed inside. In each test, the agent needs to retrieve the food in the environment, but to do so there are obstacles to overcome, ramps to climb, boxes to push, and areas that must be avoided," according to the competition doc.
"The real challenge is that we don't provide the tests in advance. It's up to you to play with the environment and build interesting setups that can help create an agent that understands how the environment's physics work and the affordances that it has. The final submission should be an agent capable of robust food retrieval behaviour similar to that of many kinds of animals. We know the animals can pass these tests, it's time to see if AI can too."
The winners will be awarded $6,500 (~£5,000) and an extra $1,000 to travel to the annual NeurIPS AI conference held at the end of the year.
If you want to enter, you can find the details here. ®