UK's Openreach admits 50k premises on 'gigabit-capable' FTTP network can't get gigabit speeds
330Mbps will have to do. Boohoo
---
Openreach has admitted that 50,000 premises covered by its fibre-to-the-premises (FTTP) network can only get speeds of up to 330Mbps rather than the much-touted 1Gbps.
As of the last quarter, some 1.5 million homes are covered by the BT broadband division's FTTP network. The problem has come to light as more folk sign up to the service.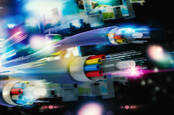 BT to up targets for FTTP rollout 'if the right conditions are met'
READ MORE
It's a legacy issue – kit from manufacturer ECI, which BT invested in 10 years ago, is slowing parts of the network down.
ISP Review first broke news of the issue and appears to have been on the money when it correctly estimated the number of premises affected.
Andrew Ferguson of ThinkBroadband said the hardware has not proved capable. "The problem is with the ECI head-ends, where all the traffic comes together [in the exchange]."
He said Openreach is using Huawei head-ends for the rest of its network, which supports 10Gbps links. However, the ECI gear does not.
The speed issue is affecting premises across the country, including in Leeds, Exeter and in and around London.
One customer, who asked to remain anonymous, told The Reg: "They continue to build ECI-constrained stuff.
"The property we're buying, to be completed early next year, will be constrained to 330."
He added: "It's a tad embarrassing doing 330Mbps over ultrafast, uber, super-duper FTTP when the competition are selling 350 and 500Mbps over a hybrid network.
"Going from faster cable to slower FTTP will be odd."
An Openreach spokesman said: "Only a tiny proportion of our FTTP footprint, covering less than 50,000 premises, is limited to 330Mbps download speeds – and we're constantly working on ways to upgrade and extend our network.
"We're investing billions of pounds into FTTP ahead of widespread consumer demand, and all of our current and future build is capable of offering gigabit speeds."
Openreach has plans to deploy full-fibre to 4 million homes by 2021, with BT making noises about 15 million by around 2025. However, Ofcom has criticised this figure as "not a firm commitment".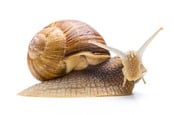 March 2020: When you lucky, lucky Brits will have a legal right to a minimum of... 10Mbps
READ MORE
The regulator is keen to see Britain's pitiful fibre network improve from its current penetration of just 7 per cent of premises. ®