This article is more than 1 year old
Time to Ryzen shine, Intel: AMD has started shipping 7nm desktop CPUs like it's no big deal
Alongside Navi GPUs, and a Ryzen 3 APU priced at just $99
Ever-ambitious chip maker AMD has started shipping the third generation of its Ryzen CPUs, built on the 7nm process.
These are the first desktop processors to support PCIe 4.0 standard, which potentially doubles throughput to 16 gigatransfers per second when compared to PCIe 3.0 – something that's increasingly important for things like GPUs, dedicated machine-learning accelerators, and non-volatile memory.
The 7nm figure is key here because it can be used as a stick to beat Intel with – Chipzilla's struggles with shrinking its transistor gates are well documented, and its 10nm chips are not expected in mainstream volume until 2020. They were originally scheduled for 2015.
AMD's latest civilian CPUs build upon the success of the Zen architecture, which can be credited with reviving the chip designer and boosting its share price beyond $20 – a major target back in 2017.
There are five new processors on offer: two entry-level Ryzen 5s, two mid-range Ryzen 7s and a top-of-the-line Ryzen 9. Prices start at $199 for Ryzen 5 3600 (6 cores, 12 threads, 3.6GHz base/4.2GHz boost) and go up to $499 for Ryzen 9 3900X (12 cores, 24 threads, 3.8GHz base/4.6GHz boost).
In September, AMD will introduce another high-end chip, the Ryzen 9 3950X – increasing core count to 16, with 3.5GHz base clock, alongside 32 threads and a massive 72MB of L2 + L3 cache. It will become the world's first 16-core "mainstream" desktop processor – i.e. running in a mainstream CPU socket, AM4 in this case.
In internal testing, AMD's overclocking team used liquid nitrogen to push a 3950X past 5.375GHz. It will have a suitably eye-watering price of $749.
To support the PCIe 4.0 standard, a motherboard will need to be equipped with one of AMD's new X570 chipsets, and the company said more than 50 boards will be ready for this at launch.
GPU grunt
AMD has also rolled out new GPUs, previously known as Navi. The Radeon RX 5700 and RX 5700 XT feature new compute units, re-architected for the 7nm process, with support for PCIe 4.0 and equipped with GDDR6 memory, are offering claiming bandwidth of up to 448GB/s.
These cards are the first to be designed using the RDNA architecture, which AMD said delivers a 1.25-times performance per clock compared to its previous-generation 14nm silicon, and up to 1.5 times more performance per watt.
One the software side, the new bells and whistles include Radeon Image Sharpening (RIS), Fidelity FX for better post-processing effects, and Radeon Anti-Lag for faster performance in online games.
The RX 5700 comprises 36 compute units and 2,304 stream processors, clocked at up to 1,725MHz in boost mode, for a performance of up to 7.95 teraflops.
The RX 5700 XT has 40 compute units and 2,560 stream processors clocked at up to 1,905MHz in boost mode, benching up to 9.75 teraflops.
RX 5700 is expected to cost around $349, while its souped-up sibling XT will carry a $50 premium. There's also a gold-speckled "50th anniversary edition" for die-hard fans, retailing for around $449.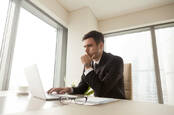 HP boss: Intel shortages are steering our suited customers to buy AMD
READ MORE
And finally, AMD released a new crop of Ryzen accelerated processing units (APUs) – essentially SoCs with the processor and the GPU integrated on the same die. It's intended for less demanding applications where a discrete GPU is not necessary.
There are two new APUs: Ryzen 3 3200G offers four cores and four threads with Vega 8 GPU chip on-board, retailing for just $99.
The Ryzen 5 3400G increases thread count to eight, and upgrades the GPU to Radeon RX Vega 11, at a price of $149.
"AMD is committed to driving innovation and competition across the computing and graphics markets to give PC enthusiasts, gamers and creators incredible experiences and unmatched value," said Lisa Su, president and CEO of AMD.
Next, it's the turn of AMD's second-generation Epyc CPUs, codenamed Rome, adopting the same blueprint for the server, and expected in the third quarter of the year. ®