This article is more than 1 year old
$10,000 could nab you an Apple-1... manual at auction. Sorry, it's more like $375k for real thing
Impeccable history swapped for a CD packed with code
An Apple-1 Operation Manual is up for auction this week, having been traded to a database programmer in exchange for code 20 years ago.
The manual, which auctioneers reckon is one of about 65 still around, has an estimate of $10,000.
Working Apple-1 retro fossil auctioned off to mystery bidder for $375,000
READ MORE
The current owner got his hands on it when he wrote the back-end software for a Craigslist clone website in 1998-1999. When his employer was unable to pay for the final tranche of code, a deal was done. He got to keep the manual, plus $500, if he handed over a CD of the code already written.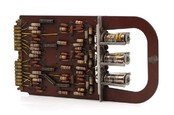 Need a Ferranti Pegasus board in your life? Brit computing history could be yours for four figures
READ MORE
The 12-page booklet has some light damage but no punch holes. The front cover was designed by Apple co-founder Ron Wayne and illustrated with an image of Isaac Newton sitting under an apple tree.
The other Apple co-founder who isn't Steve Jobs, Steve Wozniak, made about 200 Apple-1 machines in 1976, which each sold for $666.66. The Apple II was twice the price but sold in the millions.
RR auctions sold a working Apple-1 last year for $375,000.
If Wozrabilia is not your thing, the auction also includes a bunch of autographs and signed pictures of worthies and celebs along with one of Princess Diana's sweatshirts, Bono's sunglasses and one of Winston Churchill's cigar butts.
For techies with less deep pockets, you can get a picture of an Apple-1, and one of Steve Jobs and Wozniak, both signed by Woz, for an estimated $200. ®