This article is more than 1 year old
Backpage.com execs cling to First Amendment in court over sex trafficking case
Oral arguments on Tuesday in case that broke Section 230
Two execs at defunct online classifed ads site Backpage will be heading to court on Tuesday, clinging to America's First Amendment in an effort to avoid jail time.
Michael Lacey and Jim Larkin's lawyers will be in court in Pasadena, California, on Tuesday for oral arguments in their appeal against the government. Despite the company and its former CEO Carl Ferrer pleading guilty to money laundering and human trafficking, the two veterans have come out swinging.
"At 9am on Tuesday, lawyers for the government will go head to head with attorneys representing Lacey and Larkin in a First Amendment donnybrook that could rock Silicon Valley and affect anyone who does business on the internet," reads an email from the men's representatives, sent to media outlets on Monday.
"In an effort to crush Lacey, Larkin and their co-defendants as they fight 100 counts related to third-party adult ads… prosecutors have seized millions of dollars in bank accounts, real estate and other assets belonging to defendants."
The two men ran notorious online ad site Backpage.com, a website that drew more and more of its revenue from sex ads and, government prosecutors claim, led the company to turn a blind eye to illegal sex trafficking of underage children.
That case, and Backpage's refusal of cooperate with congressional hearings on the matter, led to the creation and approval of a new law – the Stop Enabling Sex Traffickers Act and the Fight Online Sex Trafficking Act (SESTA/FOSTA). This cracked the previously watertight Section 230 of the Communications Act that gives online platforms legal protection from what their users post.
Lacey and Larkin are long-time newspapermen who at one time ran a stable of local papers. But their refusal to accede to government demands led to the shuttering of Backpage.com and criminal indictments with charges that range from conspiracy and money laundering to facilitating prostitution.
Run around
The men's representatives say the reality is different to how it has been portrayed however, and argue the US government's position is weak and unconstitutional.
"Experts call the feds' gambit 'an end run around the First Amendment,' which requires that assets related to expressive materials be treated differently," the email declares.
"Prosecutorial claims against such assets must be vetted at an adversarial hearing. Which is why prosecutors have been dodging this showdown for more than a year, seizing defendants' assets in the Central District of California, while pursuing a criminal case in Phoenix, Arizona, and playing one court off the other."
The hearing will be at the Ninth Circuit of Appeals and the goal, the men claim, is "ending the government's unseemly legal gamesmanship. If Lacey and Larkin lose," their campaigning letter notes. "Look out. What's happened to them could easily happen to the owners of Facebook, Twitter, even The New York Times."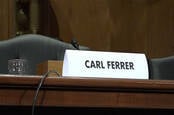 CEO of shady ad site Backpage and owners arrested on human trafficking suspicions
READ MORE
In fact, both Facebook and Twitter were at one point fiercely behind the fight against SESTA/FOSTA and so unlikely bedfellows with Backpage because they were entirely opposed to opening up Section 230, fearing that it would be just the start of an effort to make more internet companies legally liable for their users' activity.
The online giants eventually backed away however when they were caught up in their own misadventures, profiting from and amplifying fake news and Russian propaganda, as well as a whole host of questionable business practices, particularly when it came to privacy.
In November 2017, those companies decided that sex trafficking was not the hill they wanted to die on and so backed away from their opposition to SESTA/FOSTA in order to improve congressional relationships. Backpage lost its erstwhile friends and the Feds swooped.
Argument
Despite the harrowing details that emerged from some of the victims of ads that were posted on Backpage, the case against Lacey and Larkin is not watertight. The company did make changes to its policies for ads, and there is a strong First Amendment argument to be had.
There is also the fact that SESTA/FOSTA is not a widely admired law and has been blamed for effectively criminalizing legal activity: sex workers complain that it has caused almost all online platforms to refuse any form of adult ad out of fear of prosecution. And what Silicon Valley feared - that opening up Section 230 would inevitably lead to more calls for more exceptions - has come true.
In this case, the law may have been equivalent to a sledgehammer cracking a nut. Critics also argue that the law was little more than the result of personal animosity of one senator, Rob Portman (R‑OH), who was incensed at Backpage snubbing his hearings and so questioning his authority.
What's at stake in the appeal that will start this week is whether there needed to be any such law at all. And while the US has traditionally seen the First Amendment in largely absolutist terms, the topic itself – sex trafficking of children – combined with a political environment where wild exaggeration has become the norm, has created an environment where freedom of speech may not trump all other considerations. ®