38 billion reasons to say goodbye: Ex-Mrs Bezos splits from Jeff with 4% of Amazon shares in tow
Says she'll keep at philanthropy 'until the safe is empty'
Amazon boss Jeff Bezos is handing his now ex-wife Mackenzie $38bn in shares as part of the final settlement.
The couple's separation has been made official by a judge in King County, Washington, according to Bloomberg, which also reckoned the judgement will put MacKenzie Bezos straight in at number 22 in the publication's billionaires index of the world's 500 richest people when the shares are transferred.
The Bezos' divorce was enlivened by a clumsy blackmail attempt from National Enquirer publisher America Media Inc.
Bezos went public when AMI said it would not publish the Amazon boss's dick pics if Bezos got The Washington Post, which he also owns, to stop investigating the mag's alleged links to the Saudi royal family and its campaign to "catch and kill" negative stories about US president Donald Trump.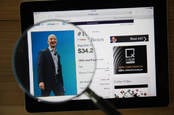 National Enquirer's big Pecker tried to shaft me – but I wouldn't give him an inch, says Jeff Bezos after dick pic leak threat
READ MORE
In exchange for not publishing the sex texts, AMI demanded: "A public, mutually-agreed upon acknowledgement from the Bezos Parties, released through a mutually agreeable news outlet, affirming that they have no knowledge or basis for suggesting that AMI's coverage was politically motivated or influenced by political forces, and an agreement that they will cease referring to such a possibility."
Bezos braved the embarrassment by going public with an open letter.
MacKenzie Bezos said back in April that she was handing back her interests in Blue Origin and The Washington Post, as well as three-quarters of her Amazon stock.
She has already signed the Giving Pledge and promised: "I have a disproportionate amount of money to share. My approach to philanthropy will continue to be thoughtful. It will take time and effort and care. But I won't wait. And I will keep at it until the safe is empty."
According to an SEC filing back in April, the ex-Mrs Bezos is getting 4 per cent of Amazon shares but Jeff will keep voting rights until she sells them or passes them on. ®