This article is more than 1 year old
US giant GTT continues biz banquet by wolfing down Dutch telco KPN's networking unit for $50m
European fibre for American firm with global aspirations
American network operator GTT is to slurp Dutch telco KPN's networking biz - save for its domestic operations - for roughly €50m in cash.
KPN International is headquartered in the Hague and runs a Tier 1 IP network stretching across 21 European countries, selling to 400 enterprise and carrier punters. The division owns metro rings in Frankfurt, London, Amsterdam and Paris – Europe's most important data centre hubs.
GTT Communications (formerly Global Telecom & Technology), whose head office is in McLean, Virginia, operates a Tier 1 network and provides IP transit and MPLS transport services to enterprise, government and carrier customers in over 100 countries.
"The acquisition of KPN International deepens our market presence in the European region," said Rick Calder, president and CEO at GTT in a canned statement.
The "experienced team" the "international network assets" and a "roster of multinational clients" were the reasons for doing the deal, he added.
The purchase is expected to close in the third quarter 2019, subject to regulatory approval.
In recent years, GTT has emerged as one of the largest carrier network operators in the world, growing its fibre empire largely through acquisition. Last year, it purchased major European networking player Interoute for €1.9bn, netting 72,000km of cable in the ground, as well as 15 data centres across the UK, Belgium, France, Germany, the Netherlands, Spain and Switzerland.
Hungry American GTT gobbles Euro network biz Interoute for $2.3bn
READ MORE
Back in 2016, GTT made another buy, picking up submarine cable specialist Hibernia Networks for $590m in cash and shares. This increased its footprint and paved the way towards expansion into Europe – Hibernia operates no fewer than five major subsea cables, including the 4,600km "Hibernia Express", the fastest (but not the most secure) transatlantic cable system in operation.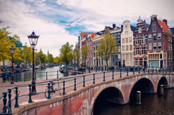 Would Dutch T-Mobile sale open door for Deutsche to buy KPN?
READ MORE
Royal KPN has spent most of its life as the country's publicly owned fixed-line operator, and only started on the path to privatisation in 1994.
Today "the Netherlands' BT" sells fixed and mobile networks, broadband and television. It used to deal in cloud and colocation through a network of carrier-neutral data centres, but in May 2019, the company decided to offload NLDC, its data centre subsidiary, to a fund managed by DWS, Deutsche Bank's listed infrastructure investment business.
GTT reported revenue of $1.49bn for 2018, growing 80.1 per cent over 2017, no doubt boosted by the Interoute business. However, it managed to record an overall loss of $243.4m as a result of "several non-recurring costs" – most of them related to the acquisition. ®