This article is more than 1 year old
Imagine an Upside Down world where a vastly inferior OS went on to dominate... Stranger Things have happened
Confirmed: Windows 1.11 is a thing. Kind of
Microsoft disappointed fans today by revealing that its Windows 1 teasing was not a precursor to another open-sourcing, but just a marketing tie-in.
Now available in the Microsoft Store, the Windows 1.11 app is, as many suspected, just a bit of fun. Sadly, the thing doesn't manage to skin Windows 10 in something a little more retro but is instead more of an edited greatest hits, with the likes of Terminal and Paint putting in an appearance alongside mystery glitches tying into Netflix's latest effort to bolster its subscriber base.
It's not as if Windows 1 didn't have enough glitches of its own back in the day. If you want a more authentic experience, there are any number of in-browser emulators out there able to provide that full-fat 256Kb IBM XT CGA experience.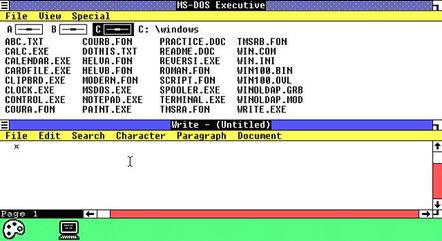 Windows 1 – the real deal in full EGA glory
For those who have managed to evade the phenomenon (or have simply given the streaming service a swerve), Stranger Things is a nostalgic trip back to the '80s, replete with a splash of horror thanks to an alternate world referred to by the young cast as "The Upside Down". Without wishing to spoil things, the latest series seems to have upped the "ew" quota somewhat with regard to some of the ickier elements.
Microsoft, along with many other brands, has hitched its marketing wagon to the show. There are also Xbox goodies up for grabs, including a themed arcade cabinet. The company also plans Camp Know Where STEM sessions from 20 July at its physical store locations aimed at students aged 13 and over.
Netflix, however, has rated the show "15". We're sure the experience planned for poppets heading into stores won't involve "strong threat, bloody violence, moderate sex, discriminatory language." Unless part of the experience is trying to get Macs, Windows PCs and Linux workstations all working in harmony using Active Directory.
As for the show, we can only imagine what it must be like to be trapped in the fictional Upside Down, where rationality appears absent. Goodness, the inhabitants of such a cursed place would probably allow a voracious corporation to take over their computers with a hideous mish-mash of ancient operating system and GUI, held together with spit and duct tape.
Imagine. ®