This article is more than 1 year old
Chrome's default-on ad blocker – which doesn't block adverts on 99% of websites – goes global
Countries outside America, Canada, Europe gain a filter and may not even notice
On Tuesday, as promised earlier this year, Google plans to begin enforcing ad quality requirements in its Chrome browser worldwide, based on the ad industry's conveniently self-defined standards.
Online adverts that fall short of the advertising industry's Coalition for Better Ads' rules – which forbid particularly annoying ad formats like popups – will be blocked by Chrome's built-in, on-by-default ad filter. This is provided they haven't already been intercepted by a less discerning third-party content blocker.
Chrome's on-board ad sieve debuted in February 2018 for users in Canada, Europe and the US. Its expanded global reach won't make much of a dent in the online ad volume, however. As of July 2019, adverts on less than one per cent of websites failed to meet ad industry standards, ad-giant Google says.
Nonetheless, the advertising biz hailed its ad filtering expansion, which arrives after Google extended its six month grace period an additional two months to allow publishers to bring their ads into compliance. The goal among Google and its industry partners is not to block ads but to ensure their safe passage.
"The Coalition's Better Ads Standards are a huge step forward for our industry," a company spokesperson said in an email to The Register.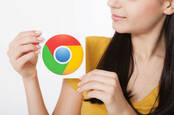 Chrome ad-blocker crackdown preview due late July. Here's a half-dozen reasons why add-on devs are still upset
READ MORE
"This is the first set of ads standards based entirely on direct feedback from tens of thousands of consumers on what they want to experience when they go online. As a member of the Coalition for Better Ads, we will support the Better Ads Standards and Chrome will comply with guidelines outlined by the Coalition."
Augustine Fou, a cybersecurity and ad fraud researcher who advises companies about online marketing, told The Register via email that Google's broader enforcement of ad rules may have some impact. This will chiefly be an issue for providers of video, pop-up and pop-under ads, and other poorly optimized ads, there's more to be gained from the company's other engineering efforts in Chrome.
"In my mind, the more important opportunity here is to filter out malvertising (ads laced with malware) and drive-by crypto-mining ads, and other unwanted security risks that come in through the ad slots," he said. "So overall, I think it is a good thing for users even though it may be criticized by competitors as Google shifting the playing field to its own advantage yet again."
Fou is referring to a parallel effort to prevent drive-by downloads through iframes – a common HTML element for displaying ads or content from a third-party site. The feature, which amounts to phasing out the ability to initiate downloads from an iframe without a user gesture, is supposed to ship in Chrome 76, now in beta and due in stable release by the end of July.
Google says it encounters iframe downloads rarely, in only 0.00001 per cent of page loads. But given the billions of web page loads occurring daily, there are likely to be a substantial number of iframe downloads overall.
Google's Chrome team is also working on a way to dump resource-intensive ads that have been loaded through iframes. The change will unload ad iframes that use "an egregious amount of system resources." That translates to 0.1 per cent of bandwidth usage, 0.1 per cent of CPU usage per minute, and 0.1 per cent of overall CPU time or 4MB network bandwidth and 60 seconds CPU time.
What's more, Google engineers are also preparing an API revision for the Chrome extension platform called Manifest v3. That change, much discussed since it set off alarm bells among developers at the beginning of the year, is intended to make third-party extensions faster, more secure and more discreet when dealing with sensitive data. But the cost of those changes could be limitations that make it difficult to recreate existing content blocking extensions.
The impact of Manifest v3 on existing extensions should become clearer by the end of this month or early next when a developer preview of the new scheme is expected to debut. ®