This article is more than 1 year old
Big Purple Hat is on as IBM closes acquisition of enterprise Linux firm
All about hybrid cloud... and Red Hat will stay neutral, says IBM
IBM has officially completed the acquisition of Red Hat for around $34bn.
The deal was made public in October 2018. The official spin is that it is all about hybrid cloud. Red Hat is a specialist in packaging and supporting open-source software for enterprises, including OpenStack cloud computing, OpenShift container and Kubernetes platform, the JBoss application platform, and Ansible DevOps automation.
Red Hat's current management team will continue, led by CEO Jim Whitehurst, who will now report to IBM CEO Ginni Rometty. "IBM will maintain Red Hat's headquarters in Raleigh, North Carolina, its facilities, brands and practices. Red Hat will operate as a distinct unit within IBM and will be reported as part of IBM's Cloud and Cognitive Software segment," IBM said today.
Red Hat has inked sales deals with IBM competitors including Amazon Web Services (AWS), Microsoft Azure, Google Cloud and Alibaba. The acquired company will still "build and expand" these "partnerships", Big Blue added.
IBM's revenue in 2018 was $79.6bn, against which Red Hat's $3.4bn for the full year ending February 2019 is small. Red Hat's technology is strategic, though, particularly if you buy into the idea of open-source platforms like OpenStack and OpenShift being more portable than equivalents from the big three public cloud vendors – AWS, Microsoft and Google.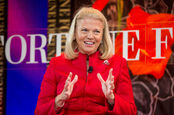 Ginni, you may have to get out and push: IBM sales, profit stuck in the mud. $13bn is $13bn, tho
READ MORE
"All the clouds, even though they have the same underlying technology, they're all different. As customers want to span clouds, they're realizing now that they have to have four or five different islands of technology stacks that developers have to develop for," claimed Red Hat's president of products and technolgies, Paul Cormier.
IBM also hopes to "sell more of its analytics and AI capabilities on OpenShift across multiple platforms", according to remarks by CFO Jim Kavanaugh on the release of its full-year financial results.
IBM claims that its cloud revenue "has grown from 4 per cent of total revenue in 2013 to 25 per cent today", but this figure includes software, hardware and services supplied to customers to build their own clouds so it is not directly comparable to other public cloud providers. ®
There's more commentary over here on our software development sister site, Devclass.