The two towers: Met Police to consolidate £500m worth of tech outsourcing deals
BT, DXC, Accenture, Keysource snouts removed from trough as contracts re-tendered
London's Metropolitan Police is to meet suppliers next week to discuss an overhaul of £500m worth of tech services contracts that will expire in the next two to three years.
Under the auspices of the Pegasus Programme, the Met is to roll six Tower agreements into just two.
The existing deals, signed between 2015 and 2017, include Service Integration & Management won by Atos; BT-run Network Services; Data Centre Services managed by Keysource; Application Support Services managed by Accenture; and the final two, Hosting and End User Services run by DXC.
Before the consolidation activities start, Scotland Yard wants to hear from tech suppliers interested in tendering their services, and has invited the community to a "virtual market engagement event" set for 17 July.
"We will outline the upcoming ICT procurement opportunities within the Pegasus Programme. The timelines, scope of services, requirements structure and proposed commercial construct will be shared," said the Met in a Prior Information Notice on the Official Journal of the EU.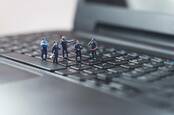 Police ICT Company kills £500m procurement, no longer wants one box shifter to rule them all
READ MORE
"Our ICT contracts expire soon and need to be re-tendered, they are currently being delivered as a multi supplier 'Tower Model'."
The six towers will be collapsed into two: Infrastructure will comprise service desk, network, hosting devices, cross-tower service management and tower service management; and Applications will cover productivity, user states, software, core apps, in-house apps, code apps, CPTS, and SaaS.
The estimated date of publication of the contract notice is 31 October.
The Mayor of London's Office for Policing and Crime said in June that the six current towers are worth £100m a year in total over five years, so this is not pocket change. "The procurement will look at opportunities to consolidate as much of this spend," it stated.
"The proposed way forward is to develop the requirements, carry out further market engagement activity to conclude how best to take these requirements to market and then, following receipt of responses to the tender documents, return in the first quarter of 2020 with a Full Business Case for approval to award new contracts."
The Full Business Case will be submitted in May 2021, the Mayor's office added. The plan is for the two towers to continue until up to 2030.
The Met will spend £6.7m on external consultants to work with five internal tech people to "ensure that those responsible for running and managing future services and contracts define requirements, associated scheduled and transition planning". ®