This article is more than 1 year old
Oh good. This'll go well. Amazon's Alexa will offer NHS advice
Suggested reading: Making Your Last Will and Testament
Patients in the UK will be able to use Amazon's Alexa voice assistant to search for information from the National Health Service's website.
The nation's Health Secretary - and app-maker extraordinaire - Matt Hancock brushed aside concerns about privacy or handing a commercial company potentially sensitive medical information.
Speaking on BBC Radio 4's Today show this morning, Hancock declined to say why Amazon wasn't paying for access to NHS expertise and said the company had pledged not to commercialise the data and that it would be stored under strict privacy rules". So that's all good then.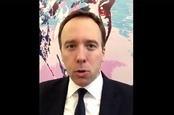 What a Hancock-up: MP's social network app is a privacy disaster
READ MORE
The press release promised: "The technology will help patients, especially the elderly, blind and those who cannot access the internet through traditional means, to get professional, NHS-verified health information in seconds, through simple voice commands."
Matthew Gould, chief executive of NHSX, said: "The public need to be able to get reliable information about their health easily and in ways they actually use. By working closely with Amazon and other tech companies, big and small, we can ensure that the millions of users looking for health information every day can get simple, validated advice at the touch of a button or voice command."
Phil Booth, co-ordinator at medConfidential, was less impressed. Booth said: "There's not nearly enough detail about what is happening to the data. Hooking up the NHS to Amazon and potentially passing on the most sensitive data opens up a rabbit hole of questions none of which have been answered. Privacy Shield (under which EU data can be sent to the US for storage and processing) is falling apart so we shouldn't be encouraging anyone, never mind NHS patients, from sharing data in this way. A deal like this requires much more than a fluffy press release – in fact it might even require legislation."
In practical terms Booth asked what would happen to a teenage girl's enquiries about contraception and whether her father, and Amazon account holder, would get to listen to them. He also noted recent concerns about domestic abusers' use of smart devices.
Booth described the NHS data corpus as the true crown jewels and possibly the most valuable data set on the planet.
He asked whether this was in danger of just being handed to big technology companies with nothing in return. He pointed to other deals like the Royal Free NHS Trust's agreement with Google's Deep Mind as another example of data naivete.
Amazon stores voice recordings from Alexa permanently unless you delete them. The recordings are also sent to a team of humans in India and Romania where they are listened to in order to improve Alexa's accuracy.
There are also concerns that medical questions can be reviewed by other users of the Alexa device. Voice recordings can be listened to and deleted by the account holder with potential privacy concerns for those in shared housing for example.
A spokesperson for Big Brother Watch, said:
"Encouraging the public to give their private health details to one of the most aggressive corporate data guzzlers is astonishingly misguided. Amazon's Alexa records what people say, stores recordings in data centres we know nothing about, and exploits our data for profit. This scheme will likely result in people being profiled and targeted by data brokers based on their deeply personal health concerns.
"These home surveillance devices are controversial and not widely used. Any public money spent on this awful plan rather than frontline services would be a breathtaking waste."
The campaign group added: "Healthcare is made inaccessible when trust and privacy is stripped away, and that's what this terrible plan would do. It's a data protection disaster waiting to happen."
Reg readers might remember Hancock's disastrous attempt to create his own app, which was littered with privacy and data protection problems. The "Matt Hancock MP" app - which asks, perhaps not so amusingly, "Allow Matt Hancock to access photos/media/this device's location?" - is still available on the Play Store.
Hancock has also faced criticism of his open door policy for tech firms looking for a bit of NHS cash.
The latest project comes from NHSX – the quango set up to reform NHS tech procurement.
The NHS press office did provide us with some extra details of the deal:
No patient data is being shared with Amazon as part of this agreement...

This agreement with Amazon is not exclusive - we want to work with other technology providers on similar agreements.

The service provided by Amazon will not provide any form of diagnosis or advice. It will help people become better informed about conditions and mange their healthcare more effectively - it is not about removing the relationship between patients and their GPs.

There is no cost to this agreement to the taxpayer. The content is already freely available on the NHS website. This new service through Alexa will enable a greater number of people to access it and help them to manage their own healthcare.

Amazon is not sharing any of this information with third parties, nor is it selling products or making product recommendations based on this health information, nor is it building a health profile on customers.

All information is treated with high confidentiality and Amazon use multi-factor authentication to restrict access, service encryption, and audits of our control environment to protect it.
An Amazon PR rep sent us a statement:
"Customer trust is of the upmost importance, and Amazon take privacy seriously. Customers are in control of their voice history. They can review and delete voice recordings in the Alexa App or by visiting amazon.co.uk/privacy. They can also opt-in to "delete what I just said" or "delete what I said today". ®