This article is more than 1 year old
Did you buy a hot Asus Rog Strix notebook? Like, really hot? Like, super hot? Like, ow-ow-ow my lap's on fire hot?
You could be in line for a slice of $12m from PC slinger
Asus is set to pay gamers in America up to $320 each and cover the cost of new motherboards and power adapters for a couple of its defective laptops.
The Taiwanese computer slinger sold just under 25,000 of the two affected Rog Strix laptops (GL502VS and GL502VSK) models, advertising them as portable gaming machines. Neither the notebooks' cooling nor power systems could handle the energy output and draw of the systems' processors. The computers became hot to the touch, and the battery would drain even when plugged into an electrical outlet, a class-action lawsuit brought against the manufacturer last May claimed.
Under a proposed settlement [PDF] submitted this week to a California judge to green-light, Asus will agree to cover the costs of fixing or replacing the notebooks' motherboards, and provided new AC adapters, which should address the power issue. It is extending its warranty cover at a cost of $6.7m, according to the settlement.
In addition, the PC maker has offered to pay unhappy punters up to $320 per machine – $210 in credit and $110 in cash – if they can prove their purchase, or $160 ($105 credit, $55 cash) if they can't and provide their laptop's serial number instead. In total that is $5.2m, meaning the total cost of the proposed settlement will be just under $12m.
The guy would brought the lawsuit – Joseph Carlotti – has also asked for $5,000 for his part in submitting the case and spending a year with it until his lawyers sat down with Asus a year later – in May this year – and thrashed out the deal. Of course the people doing best out of it all are, as ever, the lawyers. They have put in a bill of $787,500 for their time and expenses.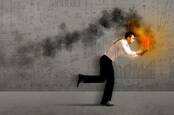 Stop using that MacBook Pro RIGHT NOW, says Uncle Sam: Loyalists suffer burns, smoke inhalation and worse – those crappy keyboards
READ MORE
Although the deal, if accepted, would mean an end to this overheating laptop lawsuit, Asus is still on the hook for another one where a hot laptop was blamed for a fire at a dentist's office in Cincinnati, USA. The laptop was part of some dental equipment and, according to the insurance company that is suing Asus (and Samsung), its battery overheated and exploded, causing a fire that spread and damaged the office as part of the building it was in.
Asus is far from the first laptop manufacturer to have a problem with overheating. In 2016, HP issued a global recall on batteries that were at risk of catching fire. As has Panasonic's Toughbooks' batteries. And Lenovo's AC power adapters. And Toshiba. Oh, and Sony's VAIO. In fact, it has happened to HP and Toshiba and Sony several times. Ah yeah, and Apple two weeks ago.
You're not a laptop maker, it seems, until you've burned a few laps. ®