Firefox 68 arrives with darker dark mode, redesigned extensions dashboard
Long term release with enhanced controls for IT managers
Mozilla's new Firefox, 68, is out, and among other things it fixes an annoyance in the "Dark mode" theme where the toolbar in Reader mode retained a "light" appearance.
In the Windows, macOS, Linux and iOS release, the browser-maker is also surfacing its "Recommended Extensions" scheme, where editorial staff identify add-ons which they regard as safe and effective.
The extensions dashboard has been redesigned and now shows Recommended Extensions, though there were a grand total of four listed in our case. Mozilla's Andrew Truong said:
On AMO [addons.mozilla.org] starting July 11, Recommended extensions will receive special badging to indicate its inclusion in the program. Additionally, the AMO homepage will be updated to only display Recommended content, and AMO search results will place more emphasis on Recommended extensions.
While curating extensions seems a good plan, there is a risk that this increases the "winner takes all" tendency as similar add-ons compete for attention, making it harder for new entrants to get noticed.
The new dashboard also includes a list of permissions required by each extension within the add-on manager – important for staying aware of how an extension may impact privacy and security - and an integrated "Add to Firefox" button within the list of extensions.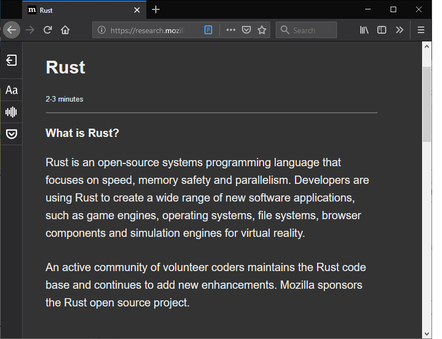 Firefox dark mode is now consistent across the entire window
If you set Content Blocking to Strict in Firefox 68, the browser will attempt to block cryptominers (where script on the page mines cryptocurrency using your CPU) and fingerprinters (code designed to identify your device via indirect means). These options are not new but previously required custom settings.
Downloads in Firefox now support Windows Background Intelligent Transfer Service (BITS) for updates, so that a Firefox update (on Windows) can continue to download even with the browser closed.
Camera and microphone access has now been locked down so that an encrypted connection is required. This matches a similar feature in Google Chrome. The exception is that camera and microphone access still works from localhost – a server running on your own PC.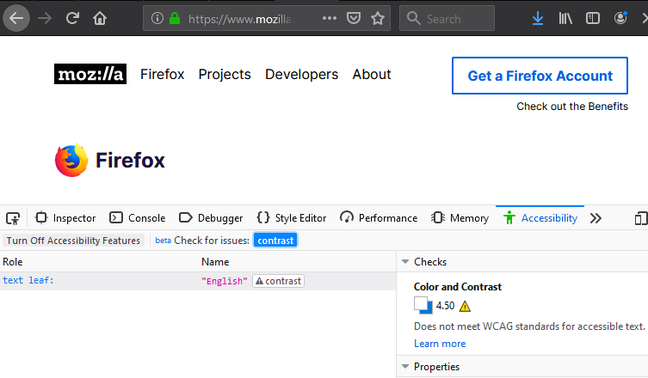 Firefox 68 checks contrast against accessibility guidelines: Mozilla's home page fails, but by less than most sites.
Firefox Developer tools includes a colour contrast check in the accessibility section. This checks that the contrast between background and foreground is sufficient to ensure legibility. We tried it on the Mozilla home page and it failed with a score of 4.5.0 – a near-miss though, since the WCAG (Web Content Accessibility Guidelines) specify 4.5.1 as the minimum. Some sites closer to home – ahem – appear to need even more work. In fact, in a brief check on some major sites none passed the test, so either the test is borked, or (more likely) this is challenging for many web designers.
The increasing capability of mobile devices like Apple's iPad Pro means that you may well want the desktop version of a site. In the new Firefox iOS (version 18), sites that you display in desktop view will always be in desktop view unless you switch back. A blue dot in the address bar indicates that you have the desktop site.
Firefox 68 is available as an "Extended support release", the first since Firefox 60. This version is aimed at larger organisations and has features aimed at IT admins, including an MSI (Microsoft Installer) installer for Windows, and new policies for site-wide customisation including new tab page configuration, extension configuration, and the ability to specify links to local files. ®