Oh, lovely, a bipartisan election hack alert law bill for Mitch McConnell to feed into the shredder
Proposed legislation would force Homeland Security to sound alarm on voting system intrusions
---
Two US lawmakers are pushing a bipartisan bill that would force the Department of Homeland Security (DHS) to alert the public of hacking attempts on election computer systems.
House reps Mike Waltz (R-FL) and Stephanie Murphy (D-FL) agreed to reach across the aisle to sponsor HR 3259, the Achieving Lasting Electoral Reforms on Transparency and Security (ALERTS Act).
The bill, right now resting in the hands of the House Administration Committee, would require Homeland Security officials issue a notification to Congress, state governments, and local officials whenever they, or any other federal agency, "have credible evidence of an unauthorized intrusion into an election system and a basis to believe that such intrusion could have resulted in voter information being altered or otherwise affected."
It seems incredible that this wouldn't already happen, but then we remembered we're living in America in 2019.
In addition to state and local authorities, the bill would require individual members of the public be notified when any of their personal information – such as information on voter rolls – is thought to have been pilfered by hackers.
That the bill would come from a pair of Florida reps is no accident. The state has been a pivotal battleground in presidential elections for decades and in 2016 multiple Florida counties were targeted by hackers.
"The one thing that is indisputable in the Mueller report is the fact that Russia interfered in our election. In Florida, it is unacceptable that the Russians know which systems were hacked but not the American voters who are the true victims of this intrusion," Rep Murphy said on Wednesday.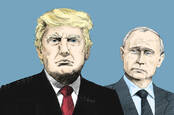 We've read the Mueller report. Here's what you need to know: ██ ██ ███ ███████ █████ ███ ██ █████ ████████ █████
READ MORE
"Just like consumers expect credit card or social media companies to disclose when their personal data has been compromised, voters also expect their government to notify them when their voting information is improperly accessed."
Having a bipartisan backing is an important step for the bill, as Democrats and Republicans have been at odds over how exactly to go about implementing election security in the aftermath of the 2016 election.
"Voters in these counties still don't know if Russians have accessed their personal data," Rep Waltz said yesterday.
"Our elections system is perhaps the most critical of all infrastructure to our democracy – and it is constantly under attack from foreign powers who do not share our values. After we adequately harden our infrastructure, the federal government needs to have an honest conversation about deterrent strategy."
Even with the backing of lawmakers from both sides, the bill will face an uphill battle to get to the White House and be signed into law.
Congress has passed multiple bills aimed at stopping foreign hacking in elections, only to have the measures discarded in the Senate by the chamber's majority leader Mitch McConnell (R-KY), with the reasoning that today's election computer security defenses – despite objections from experts – are sufficient to protect future elections from foreign hackers. ®