A software sales manager hired by Oracle last June and fired three months later has filed a lawsuit against the database giant.
Why?
She claims Big Red sacked her unlawfully after she filed racial-discrimination charges against a previous employer, cloud software provider Infor.
In her complaint [PDF], filed in US district court in New Hampshire on Wednesday, Thea Broadus, an African American woman, recounts how she began working Oracle on June 11, 2018, as an enterprise application sales manager.
A month earlier, she had been working for the health care division of Infor, where she had been employed since 2014. After she filed a complaint with the US Equal Employment Opportunity Commission (EEOC) against Infor alleging racial discrimination on May 15, 2018, the biz promptly terminated her employment.
Around August 23, 2018, the EEOC dismissed Broadus's Infor complaint – meaning it found insufficient evidence to proceed – and issued a notice allowing her to pursue her claim in court. She did so, filing a discrimination lawsuit against Infor on November 19, 2018. That case remains ongoing.
Following the EEOC dismissal, her complaint against Oracle claims, Infor looked into Broadus's employment status and found its ex-employee had joined Oracle. And, its alleged, Infor got in touch with Oracle about Broadus.
'Discrimination'
"In Infor's communications with the defendant [Oracle], Infor advised the defendant that Ms Broadus had alleged race discrimination against Infor and had filed a Charge of Discrimination against Infor," the complaint says.
Six days after the EEOC dismissal, on August 29, 2018, Oracle human resources contacted Broadus to ask her if she was still employed by Infor, the complaint states. She said she was not and called her supervisor at Oracle to ask why the company had made that inquiry, but received no response.
On September 6, 2018, Oracle sent an email to Broadus's personal Gmail account. As described in the complaint, the message purported to be a consumer report related to her credit history and hiring.
"These reports assist us in evaluating individuals for employment with Oracle," the message said.
"That email doesn't make any sense because Ms Broadus has been working for Oracle for about four months since that point," said Benjamin King, a partner at Douglas, Leonard & Garvey P.C. in New Hampshire who is representing the plaintiff, in a phone interview with The Register. "The report attached to the email was not a consumer report as Oracle represented but a report from HireRight that indicated that Ms Broadus was still working for Infor."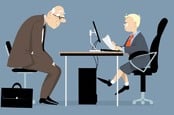 Oracle's legal woes deepen: Big Red sued (again) for age and medical 'discrimination'
READ MORE
Broadus, it's claimed, didn't see the message because she rarely checks her personal Gmail account. Then on September 18, 2018, she got a call from Oracle human resources notifying her of a supposed "conflict of interest" – being employed by both Infor and Oracle simultaneously – and that a five day deadline to respond, set in the unseen email, had passed.
Brodus responded she hadn't seen the email and insisted she wasn't still employed at Infor. Her efforts to clarify the issue with HR were rebuffed and on September 27, 2018, Oracle fired her.
"Ms Broadus's claim that Oracle retaliated against her because of her filing of a charge of discrimination against Infor is supported by a number of facts," said King. "One, the firing came very close in time to Oracle's discovery of the fact Ms Broadus had filed a charge of discrimination against Infor. And temporal proximity, as the courts call it, supports the existence of a retaliatory motive."
The complaint also describes allegedly false statements made by Oracle to Broadus in the September 27 termination email.
"We think that the notion that Oracle fired Ms Broadus for the stated reason that she was supposedly working simultaneously for Infor smacks of pretext," said King.
According to King, the facts in the Oracle and Infor lawsuits echoes Robinson v. Shell Oil (1997), in which the Supreme Court held that former employees may sue for post-employment retaliation.
In that case, Charles Robinson, who alleged that he had been fired from Shell because he was black, sought a job at another company and that company asked for a reference from Shell, which assessed him negatively.
Shell argued workplace protections against discrimination didn't apply to former employees, a position the EEOC at the time argued against because that would discourage workers from making claims in the first place. Robinson won the right to sue Shell but ultimately lose his case.
"The message clearly is that the employer doesn't want in its midst an employee who dares to file a claim against the employer," said King.
The Register asked both Oracle and Infor for comment. We've not heard back from Infor, and spokespeople for Oracle declined to comment. ®
Similar topics