This article is more than 1 year old
Nvidia and friends: GPU giant's AI data centre network is going global
Big iron systems servin' all over the world with new deals
GPU giant Nvidia has recruited another 10 data centre operators to provide a home for its DGX-series AI boxes.
The graphics Godzilla has expanded its DGX-Ready programme, signing up colocation providers across the US, Europe and Asia that are able to power and cool the specialised hardware. These include Cyxtera, Data Dock, Equinix, Fujitsu, Interxion, NTT Comms, NTT Data, IDC Frontier, Vantage and Verne Global.
The programme was previously limited to nine colocation providers in the US and Canada. With this latest expansion, it arrives to another 22 countries, including the UK.
Nvidia has also announced that some of the DGX-Ready participants are now offering customers a chance to test drive the appliances before they sink any substantial capital into expensive machine learning tech. Core Scientific and Flexential are among the first to offer this capability.
DGX-Ready was launched in January 2019 to identify colocation facilities that are able to accommodate the DGX family of appliances – designed by Nvidia and made by a variety of hardware manufacturers including DDN, IBM Storage, NetApp and Pure Storage.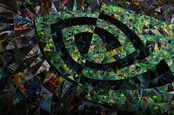 Nvidia 'brings CUDA to Arm' – Translation: We're still doing a thing we've already done but now doing more of it
READ MORE
Finding a suitable data centre for your DGX is tricky because of their high power density: a single DGX-2 – the world's first AI system to offer two petaFLOPS of performance – contains 16 of Nvidia's power-hungry Tesla V100 GPUs, and this has a serious impact on the power delivery and cooling required.
According to Uptime Institute [PDF], in 2017 the overwhelming majority of data centres were housing around 6kW of systems per rack, while a single DGX-2 can consume up to 10kW [PDF], and that's across just 10 rack units – an industry-standard server enclosure comprises 42 rack units and can theoretically accommodate four of these.
A single DGX-2 weighs around 340lbs, so floor strength of the data centre – usually dependent on the type of floor tiles used – is also a consideration.
"The NVIDIA DGX-2 System is a complete game-changer for any organisation that wants to accelerate and improve the accuracy of its AI-driven research programs, but it does require a very specialist, highly-optimised data centre environment," explained Bob Fletcher, veep of strategy at Verne.
"We are delighted to be part of Nvidia's initiative to make it quicker and easier for these organisations to deploy AI at scale." ®