This article is more than 1 year old
You can't say Go without Google – specifically, our little logo, Chocolate Factory insists
We pay for the hosting so the big G stays: Open-source community-driven code lingo site must sport giant's brand
Back in 2009, Google chose to name its latest programming language Go, a decision that is still giving it a migraine
It could have called it "Google Go" to avoid confusion with Frank McCabe's Go! programming language. Despite criticism, it didn't do so. After almost a year of online grumbling, Google software engineer Russ Cox, in 2010, closed GitHub Issue #9, dismissing the complaints as "unfortunate."
And the headaches over the thing's name still won't go away (no pun intended.) Last week, Google rebuffed a request to remove its logo from the Go website, golang.org, a change supported by some developers who feel Google takes Go developers for granted.
Through it began using the name Go, it didn't get a trademark for the term. Instead, it holds a trademark for the Golang programming language.
Google's branding followed the language anyway, in the form of the company's distinctive logo. The recently refreshed Go website – the primary resource for the open-source, Google-run project – carries a multihued Google logo on the bottom right-hand corner of every webpage.
Among aggrieved Go developers, these Google-festooned pages offer a visible reminder that the programming language belongs to Google rather than to the Go community – which numbered somewhere between 0.8 and 1.6 million people as of July 2018.
Complaints about the inability to separate Google from its Go programming language surfaced in May, when Chris Siebenmann, a Unix system administrator in the University of Toronto's Department of Computer Science, penned a blog post in answer to frustration arising Google's slowness to support generics in Go.
Go, he said, belongs to Google and not developers outside the company who contribute to the project.
"In general, it's extremely clear that the community's voice doesn't matter very much for Go's development, and those of us working with Go outside Google's walls just have to live with that," he said.
Siebenmann makes clear he's ambivalent about the situation, appreciative of Google's cautious stewardship but still frustrated with the Go contribution process. The Register asked him to elaborate on his thoughts but he declined.
The issue may seem inconsequential but programming languages with a dominant corporate patron have trouble escaping the gravity of their creator. For good or ill, Apple, Microsoft and Oracle each cast long shadows over their Swift, C# and Java communities.
Who runs what?
At the same time, the fact that two of the fastest growing programming languages in recent years, JavaScript and Python, have thrived without a singular sustainer suggests corporate patronage isn't essential for developer communities.
Siebenmann's post sparked discussion of the issue in a discussion group – a Google Group to be precise.
In response to the post, Google's Cox pushed back against Siebenmann's claim. "There are certainly senses in which Go is Google's language: it was created at Google, Google continues to fund most of the development, and a few people at Google are the final deciders about the language itself," he said. "But I disagree with the 'not ours:' I think Go is also the Go community's language."
Cox argued that "everyone who publishes a package, teaches a class, writes a blog post or book organizes a meetup, or files an issue is contributing to Go and making it theirs." And he observed that Go community is free to fork the project if they're unhappy with Google's involvement.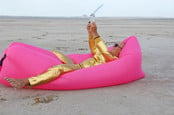 Google's Fuchsia OS Flutters into view: We're just trying out some new concepts, claims exec
READ MORE
Unconvinced, developer Tim Scheuermann last week created GitHub Issue #33021 to remove Google's logo. He argues that Google supports the Android operating system and the Dart programming language without obvious Google branding, and should do the same with Go.
Andrew Bonventre, engineering lead for Go at Google, responded with a thanks-but-no-thanks answer, noting that Microsoft has a logo on its TypeScript website.
"We spent a long time talking about it and are sensitive to this concern," he said. "It's equally important to make it clear that Google supports Go, which was missing before... Google pays for and hosts the infrastructure that golang.org runs on and we hope the current very small logo is a decent compromise."
The Register asked Google for comment. It's unfortunate but we've not heard back. ®