This article is more than 1 year old
Awkward! Bernie tells Bezos-sponsored event he'd break up Amazon and other tech titans
Promises to go all Teddy Roosevelt on anti-trust if elected
Bernie Sanders will "absolutely" look at breaking up Facebook, Google and Amazon if he becomes president.
Speaking at an event run the Jeff Bezos-owned Washington Post on Tuesday, the Democratic presidential hopeful offered his strongest position yet when it comes to taking action against Amazon, Facebook and Google, suggesting that broader political sentiment is moving against the tech trio.
Previously, Senator Sanders (I-VT) had said that "we should definitely look at" the idea of breaking up the companies, something that was taken as non-committal. This time, when asked by the interviewer whether a Sanders Administration would split up the online giants, he said, simply, "absolutely."
He initially focused on Facebook, noting that it has "incredible power over the economy, over the political life of this country in a very dangerous sense." Sanders also said that the reported record $5bn fine that the FTC will impose on Facebook for its terrible data privacy practices was not a sufficiently strong measure.
Those comments come on the same day that Facebook will be heavily criticized in Congress over its proposal to introduce a new cryptocurrency called Libra. Yesterday, Libra was called a national security risk by the US Treasury Secretary.
But Amazon also got it in the neck; the online retailer was "moving very rapidly to be a monopoly," Sanders argued. That was a little on the nose given that the Washington Post is owned by Amazon CEO Jeff Bezos and it was also the first day of Amazon's heavily-promoted Prime Day where it discounts products and is rewarded with advertorials from the commercial arms of countless media outlets.
Antitrust
He had more. "It's not just Amazon," Sanders said. "I think we need vigorous antitrust legislation in this country because you are seeing - you name the area, whether it's pharmaceuticals, whether it is Wall Street, whether it is high tech - fewer and fewer gigantic corporation owning those sectors."
His proposed solution? Appointing an attorney general "who would break up these huge corporations."
It has been done before in America, back in 1901 when the Republican President Teddy Roosevelt told his attorney general - the delightfully named Philander Knox - to break up the monopolistic corporations that dominated US commerce at the beginning of the last century. Knox went after Standard Oil, the railway and beef monopolies to enforce competition and Roosevelt backed that up with strict antitrust legislation to ensure a more competitive market for decades to come.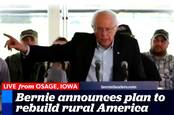 Tractors, not phones, will (maybe) get America a right-to-repair law at this rate: Bernie slams 'truly insane' situation
READ MORE
"Corporations engaged in interstate commerce should be regulated if they are found to exercise a license working to the public injury," Roosevelt said in his first annual message to Congress.
"It should be as much the aim of those who seek for social betterment to rid the business world of crimes of cunning as to rid the entire body politic of crimes of violence."
Sanders' shift likely has a lot to do with the very clear position of a main rival in the Democratic presidential contender race, Senator Elizabeth Warren (D-MA). Warren's stance has been clear from day one, and last month a billboard from her campaign featured nothing but her face and the four words "Break Up Big Tech."
Warren reiterated that message in a tweet this week. "Giant corporations like Amazon have too much power," she said. "My administration will make big, structural changes to the tech sector to promote more competition - including breaking up Amazon, Facebook, and Google."
That message has been received positively and – in the depressing metric used in American politics to judge a candidate's viability – had been raking in the donations, making the topic itself a key one on the campaign trail.
It has pulled Sanders somewhat unhappily into the break-up-tech camp. Even though there is widespread concern among lawmakers that the big tech giants are too big and powerful and too willing to break laws for their own business models, they are reluctant as politicians to take the companies on directly.
It's never a good idea for a US presidential hopeful to appear to be anti-business. Whether the tech giants' actions rise above that instinctual concern in voters' eyes is unclear. And this is before the Big Tech companies with their enormous resources and massive public platforms have started pushing back. ®