This article is more than 1 year old
Having flogged off its data centers, AT&T cozies up to Microsoft, IBM to keep it running
In a cloud war, the US telco opts for the Swiss model, stays neutral
AT&T has announced "strategic alliances" with both IBM and Microsoft, as it looks to capitalize on cloud computing without getting its hands dirty.
In the beginning of 2019, the world's largest telco completed the sale of its data center business to Brookfield infrastructure, offloading 31 facilities for $1.1bn, to become the foundation of an independent colocation business called Evoque.
Now, AT&T is making inroads with major cloud vendors, hoping to take advantage of their hyperscale data centers while avoiding the expense of building and maintaining its own server farms.
As part of the deal with IBM, most internal software applications used by AT&T's Business division will move to the Big Blue's public cloud and will be managed using Red Hat's open source tools.
The relationship with Red Hat is not new – AT&T was using products like Red Hat Enterprise Linux (RHEL) long before IBM gobbled up the open source biz for $34bn. The company has been a major supporter of open source projects, participating in initiatives like OPNFV, OpenDaylight, CNCF, Open Compute Project and many others; it is also chiefly responsible for the new Airship project.
In return for AT&T's custom, IBM will make the venerable telco its primary provider of software-defined networking (SDN), and promise to purchase its 5G, edge computing and IoT services. There are no exact figures as to how much such a deal could be worth – but IBM suggested it could total "billions."
"We are proud to collaborate with AT&T Business, provide the scale and performance of our global footprint of cloud data centers, and deliver a common environment on which they can build once and deploy in any one of the appropriate footprints to be faster and more agile," said Arvind Krishna, senior veep for Cloud and Cognitive Software at IBM.
IBM will also help manage AT&T's entire infrastructure footprint, including third-party cloud services – which brings us neatly to the Microsoft deal.
The arrangement with Mister Softee involves the same mix of tech, but in a different configuration: under the terms of the deal, Microsoft Azure will become the preferred cloud provider for AT&T's non-network applications – in regards to its virtualized networking tech, the telco is betting on OpenStack.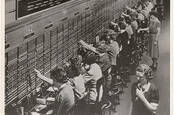 AT&T offloads a bunch of data centers for a billion bucks
READ MORE
Microsoft will also equip "much" of AT&T's workforce with Microsoft 365 – a name for a bundle of products available on subscription that includes Windows 10, Office 365 and Enterprise Mobility + Security (EMS).
In return, AT&T promises to involve Microsoft in its 5G deployments and assist with the development of edge computing capabilities – the two have previously collaborated on a system for tracking thousands of drones that was perfect for buzzword bingo, involving 5G, AI, IoT and edgy servers.
"AT&T is at the forefront of defining how advances in technology, including 5G and edge computing, will transform every aspect of work and life," said Satya Nadella, CEO at Microsoft. "The world's leading companies run on our cloud, and we are delighted that AT&T chose Microsoft to accelerate its innovation."
Since AT&T will become an Azure customer, but large chunks of its cloud infrastructure will be managed by IBM "on and off-premises and across different clouds," the company could end up in a strange situation where IBM is managing Microsoft's cloud on its behalf. ®