Boris Johnson's promise of full fibre in the UK by 2025 is pie in the sky
From the man who brought us the garden bridge and water cannons
Analysis Likely future UK prime minister Boris Johnson has pledged to bring full fibre to all homes by 2025, a claim that telecoms experts have widely dismissed.
Writing in his £275,000-a-year weekly column in the Telegraph, Johnson said he addressed the issue of better broadband at a meeting with the Lincolnshire Conservatives.
"[W]hen I mentioned another priority of mine – almost casually – those farmers smote their weatherbeaten hands together and roared their assent. They want better broadband. They are indignant at the current failure to provide it – and they are absolutely right."
Johnson said it was a "disgrace" that "this country should suffer from a deep digital divide, so that many rural areas and towns are simply left behind". He went on to compare the UK's full-fibre penetration of 7 per cent with Spain's 85 per cent.
"It cannot go on like this. The government has just set a new target for the 100 per cent roll-out of full fibre broadband – by 2033! Tell that to rural Lincolnshire. As a deadline, that is laughably unambitious. If we want to unite our country and our society, we should commit now to delivering full fibre to every home in the land not in the mid 2030s – but in five years at the outside."
He concluded that if there were one lesson from the 2016 referendum it is that "too much of the country feels unable to take part in the national success."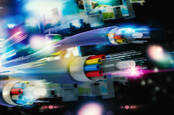 BT to up targets for FTTP rollout 'if the right conditions are met'
READ MORE
"Think what we could achieve if the whole country had the same lightning access to this essential tool of progress. If the Spanish can do it, why can't we? Let's say goodbye to the UK's mañana approach to broadband and unleash full fibre for all by 2025."
Reality check
However, a number of experts have said Johnson's proposal is just not feasible, given the lack of skilled labour involved.
Carl Thomas, network engineer and independent analyst, said: "BT are investing billions in training people, they are using existing poles and ducts where they can and even they are only able to do about 20,000 premises a week at the moment: nowhere near enough.
"We would need a huge influx of immigrant labour to do this. I'm not clear why such labour would come to the UK given our currency and political climate and, of course, the rest of the world wants such people too."
There is also only so much optical fibre around. "It isn't impossible but it requires basically [a] hoarding of optical fibre, which means paying more than everyone else; massive hoarding of labour, which means paying more than everyone else; [and] an unprecedented degree of tolerance of roadworks and transport disruption."
Andrew Ferguson of ThinkBroadband said the only way that target would be possible is if the government extended the definition of what "passing" a premise meant, and possibly included Virgin Media's hybrid fibre DOCSIS 3.1 technology, which is not full fibre but can achieve gigabit speeds.
Current industry estimates suggest that full fibre will be commercially available to 50 to 75 per cent of the population by 2033, he said.
"In terms of what's been announced already [from the providers], it's ambition, rather than money slapped on the table."
If there is consumer uptake of the first round of investment, they will carry on rolling it out, he said. "So in that case, 15 million by 2025 is a possibility."
Ferguson added: "This is something that sounds popular and strikes a nice positive note. But it is the politics of soundbites. No one actually cares if they get 100Mbps over a piece of string if it is reliable and stable. Most people don't care about the technology, they just want it to work."
"Based on the pace of rollout I've seen in the last six months, UK is on track to hit 50 per cent FTTP coverage in September 2030.
"I'd be more positive about this if he'd proposed getting to 50 per cent by 2025 with a promise to dig into the public purse."
It certainly wouldn't be the first unachievable project from Johnson, who signed off spending £43m on London's "garden" Thames pedestrian bridge project without anything getting off the ground; and was famously behind the purchase of an unusable water cannon for the police, later sold for scrap at a £300,000 loss. ®