This article is more than 1 year old
Microsoft adds Internet Explorer mode to Chromium Edge, announces roadmap
Enterprise features including support for hated ancient browser ready to evaluate
Microsoft had to consider businesses' addiction to Internet Explorer 11 in its roadmap for Edge Enterprise, the business aspect of its new web browser based on Google's Chromium project.
Group program manager Sean Lyndersay and senior program manager Colleen Williams said of the roadmap, rolled out yesterday, that "one of the features available for evaluation is Internet Explorer Mode ... our customers made clear to us ... that their web apps that rely on IE11 tend to be critical to many of their business processes."
Principal program manager Fred Pullen asked IT administrators at the Microsoft Ignite conference "how many of you no longer need Internet Explorer for anything? I had four hands out of about 200 people," he said in a video.
Internet Explorer is not going away. It is a component of Windows and is supported for as long as versions of Windows in which it is included are supported. "That said, we want to restrict where and when and how IE 11 is instantiated," said Pullen, because of the risks inherent in the legacy browser with its multiple document modes and quirk modes, making it particularly vulnerable to attack.
Chromium-based edge will be able to open sites in IE mode automatically, within the Edge application, provided it is enabled by Group Policy, a mechanism for managing application settings centrally across a Windows site. The policies are flexible and include options for specifying sites to open in IE mode and the ability to control whether IE mode is used for intranet sites.
Newly announced is an "enterprise-focused" new tab page, which will show corporate sites and recommended content from Office 365. Little loved search engine Bing's results will include hits from both the web and the corporate network for users of Microsoft 365 (Office 365 combined with Windows and device management).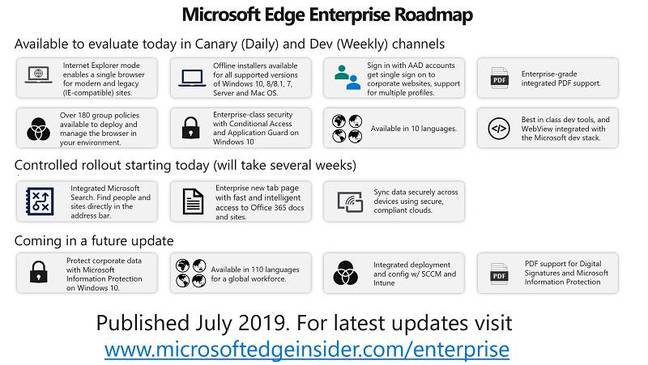 The roadmap for Edge from a business perspective
Other features in Edge, carried over from the current version, include Application Guard, which runs the browser in a Hyper-V container for isolation, and Azure AD Conditional Access, which uses a range of signals such as location, device and application to determine whether sign-in with Azure AD (used by Office 365) is allowed.
There's no place like Chromium: Teething issues
Microsoft is building Edge on Chromium in part to ensure better compatibility with Google's dominant Chrome web browser. This does come at a price, though. There are multiple potential problems. By way of illustration, take a look at this Chromium issue.
The problem was that a change in Chromium behaviour broke downloads from pages served by Microsoft Dynamics CRM. Specifically, filenames surrounded by single quotes, which Dynamics generates, started downloading with the quotes in place, meaning that users had to rename the file to remove them.
Users who do not spot this get an error message about an unknown file type when trying to open what they have downloaded. Chromium made the change to better comply with the HTML specification, but admins complained about the grief the change had caused for their users.
In response to this issue, the Chromium team reverted the change to allow more time for admins and software vendors to get their applications into conformance. Then it reverted the revert, stating that "We decided not to merge this to stable."
The comment from Google's Abdul Syed, on the Chrome team, was that: "As browsers better align with spec and each other, to provide a more consistent a predictable web platform, standard-compliance issues with third party software will inevitably be surfaced, and will need to be fixed by third party softwares."
Microsoft is fixing the issue in Dynamics but some users still report problems, particularly with on-premises Dynamics.
Forcing Microsoft to fix applications that do not comply with standards is a good thing, but inflicting pain on users with a change in browser behaviour is not. Whether the Chromium team found the right balance in this instance is up for debate, but the incident shows that Microsoft cannot expect any special favours if for some reason Chromium evolves in a direction that causes issues for Microsoft customers. ®