This article is more than 1 year old
Hip and modern IBM can't beat legacy kit and services IBM: That's four consecutive quarters of revenue decline now
8% cloud biz growth in 12 months. Where is Red Hat when you need it?
IBM notched up its fourth straight quarter of revenue decline as the areas it deems strategic – hybrid cloud, AI and blockchain – couldn't paper over cracks in the legacy operations of big iron and outsourcing.
That said, in Q2 2019, Big Blue took actions to "de-emphasise" its lower-margin services contracts and continued to wind down the OEM commercial financing portfolio, feeding into higher than expected profits. The IT giant also got $575m from selling software assets but this was negated by the cost of layoffs and a legal ruling that went against it.
Revenue fell 4.2 per cent year-on-year to $19.16bn for the three months ended 30 June. IBM recently completed the purchase of Red Hat but numbers from the open-source software business were not included.
On Wednesday this week, amid the release of Big Blue's second-quarter numbers, IBM CFO Jim Kavanaugh preferred to discuss the buy on a conference call with analysts rather than linger on the lack of progress in turnover.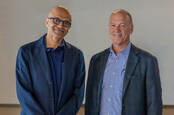 Having flogged off its data centers, AT&T cozies up to Microsoft, IBM to keep it running
READ MORE
"This acquisition is an important milestone for IBM and one that will significantly impact the cloud landscape. It is clear that the next chapter of cloud will be about shifting mission-critical work to the cloud and optimising everything from supply chains to core banking systems. This requires a hybrid, multi-cloud, open approach to provide portability, management consistency, and security for these enterprise workloads."
So far services include IBM Cloud, IBM Cloud Private, the Cloud Migration Factory, Cloud Application Innovation, IBM Garages, IBM Multicloud Manager, and Cloud Optimized Systems "with tens of thousands of cloud architects", said the CFO. So how did the division that houses all those services that IBM has bet its future on do? OK.
Cloud & Cognitive Software grew just 3.2 per cent to $5.6bn. Within this, cloud and data platform was up 5 per cent, cognitive apps grew 3 per cent, and the transaction processing platform edged up just 2 per cent – the jury is still out on the prospects for blockchain as a mass-market product.
Clearly IBM's cloud business is trailing larger rivals, Microsoft and Amazon Web Services, and the high double-digit growth they keep on posting quarter after quarter in their cloud services businesses.
Kavanaugh said IBM brought in $19.5bn worth of cloud revenue over the past 12 months, up 8 per cent. Too late to contribute to this quarter, IBM yesterday signed a deal with AT&T to shift its workloads to the cloud, months after the telco shuttered its own bit barns.
'Growth'
Moving onto Global Business Services, turnover of $4.2bn represented a gain of 3.5 per cent, led by a 5 per cent jump in consulting, up 2 per cent in application management and up 3 per cent in global process services.
"We had good growth across all three lines of business, as we help our clients on their digital journeys and to modernise and migrate applications to the cloud," said the CFO.
He added that IBM would develop and run a "centre of excellence" for Red Hat Ansible deployments for hybrid and multiple cloud platforms.
Turning to the more challenged section of IBM's portfolio, Global Technology Services (GTS) brought in $6.8bn worth of business, down 6.7 per cent. Infrastructure and cloud services fell 4 per cent, and technology support services was down 2 per cent.
GTS has been at the centre of multi-year redundancies at IBM as customers buy less hardware and hence those services intended to maintain it. With the cloud, customers prefer to send the data off to someone else's data centre, save for the sensitive stuff they need to continue to store in-house.
Margins for GTS were up and Kavanaugh said it "reflects our focus on exiting lower-value content in driving productivity and cloud scale efficiencies. While GTS revenue decline due in part to this portfolio focus, we had good growth in the services that help our clients implement and manage hybrid multi-cloud environments."
That said, gross margin and modest pre-tax profit didn't include the expense of job cuts, or as IBM likes to call them, "workforce actions".
Eye-watering
The hardware division, Systems, was the worst performer in the quarter in terms of percentage declines, dropping an eye-watering 19.5 per cent to $1.8bn. Power revenue was up 3 per cent but the 21 per cent dive in storage and the Z mainframe line slumped 41 per cent, "reflecting the late stage of our z14 product cycle".
"I'll remind you that this is compared to a very strong performance in the second quarter last year, where we grew 112 per cent," said the CFO.
The banking unit at IBM, Global Financing, reported revenues of $351m, down 11 per cent , which Kavanaugh said was due to the deliberate scaling back of OEM commercial financing.
The scale of profit achieved by servicing the mainframe line wasn't lost on Wall Street year ago, but it goes to show how reliant IBM is on refresh cycles on big iron kit and related services.
As we've reported previously, IBM has barely grown under the control of CEO, president and chairman Ginni Rometty, suffering 22 consecutive quarters of shrinking sales. There was brief respite in calendar 2017 when IBM put a run of growth together, but this stopped again in 2018.
Expenses for the quarter dropped $181m to $6.242bn, operating income jumped to $2.499bn from $2.4bn and net profit was $2.489bn after paying $1m in tax.
IBM said it returned $1.8bn to shareholders in the quarter via $1.4bn in dividends and $300m via share buybacks. IBM has spent $92bn on share buybacks from 2012 to 2017, money that could have been spent on businesses that might have improved its fortunes earlier.
Full-year expectations for Big Blue will be updated by the corporation in an investor call on 2 August, and these will include a contribution from Red Hat.
The latest numbers show IBM is still wrestling with "some fundamental issues", said financial analyst Megabuyte today.
"The company still remains heavily reliant on its traditional mainframe businesses despite investments in modernising its products and services in areas such as analytics, mobile, and Cloud, with revenues for the latter only growing by 8 per cent over the last 12 months."
"It will be interesting to see how operations will change with Red Hat now under its wing, with IBM confident that the deal can lift all parts of the company as it sells more software and services, and helps clients accelerate the journey to the Cloud," it added. ®