This article is more than 1 year old
The Empire Strikes Back: Trump discovers $10bn JEDI cloud deal may go to nemesis Jeff Bezos, demands probe
Bad news for AWS and Microsoft, who are vying for US govt's winner-takes-all IT super-contract
Updated The Pentagon's $10bn JEDI mega-cloud contract may be put on hold once again, this time because President Trump has ordered a probe into the massive single-vendor deal.
The White House has recently taken an interest in the proposed service agreement, and wants more information about its terms, conditions, requirements, and procurement, according to Bloomberg on Wednesday.
In particular, the President is unhappy that he wasn't made aware that some Republicans had written complaints about the process to the White House and the military, and wants to see those memos to determine if he needs to step in and do what he does best: turning everything upside down.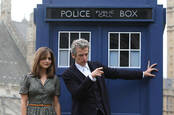 Oracle told to warp 9 out of court: Judge photon-torpedoes Big Red's Pentagon JEDI dream
READ MORE
As it stands, Microsoft and AWS are the finalists to seal a deal that will see just one of the pair become the sole cloud IT provider for the Department of Defense for the next 10 years. JEDI – that's the Joint Enterprise Defense Infrastructure program – is expected to top out at around $10bn for the winning contractor for a decade after the ink dries on the paperwork. The winner is due to be picked next month.
The terms of the deal, especially the provision that one tech giant must deliver the entire contract single-handedly, have long been the target of criticism from rival vendors who have wanted to band together and offer packaged deals that would split the duties among multiple outfits.
Among those who have most strongly objected to the JEDI process were IBM and Oracle, which went so far as to take the matter to court, alleging AWS improperly influenced the Pentagon to write in terms to the deal that would virtually disqualify all other bidders. In other words, from the outset, the whole thing appeared to be gift wrapped for Amazon, it was claimed.
Earlier this week a federal judge dismissed those claims, clearing the way for either Microsoft or AWS to land the mega-deal. The aforementioned Republicans writing to Trump to complain were upset Oracle and others had been snubbed.
Should the President indeed be looking to intervene, it could spell trouble for the final JEDI hopefuls, particularly AWS, whose overlord Jeff Bezos also owns the Washington Post, which has run afoul of the media-obsessed tweeter-in-chief at various times since taking office.
Is Fake News Washington Post being used as a lobbyist weapon against Congress to keep Politicians from looking into Amazon no-tax monopoly?

— Donald J. Trump (@realDonaldTrump) July 25, 2017
Oracle, on the other hand, has by all accounts a better relationship with the President. Co-CEO Safra Katz has long been a friend of the administration, at one point even being rumored to be in consideration for a cabinet position.
It is yet to be seen how these vendettas and relationships would impact Trump's thinking on the matter – or if they would even factor in to the President's decision making at all. Still, it probably doesn't hurt to be on Trump's good side.
AWS did not respond to a request for comment on the matter, while Oracle and Microsoft declined to comment. ®
Updated to add
"I never had something where more people are complaining," Trump told reporters on Thursday, regarding JEDI. "We're getting tremendous complaints from other companies. Some of the greatest companies in the world are complaining about it."
This comes after Katz and Trump privately dined on Tuesday this week, during which the Oracle co-CEO apparently complained to the President that her database giant had lost out on the Pentagon's JEDI contract.
Also, Amazon has, cannily, hired Jeff Miller, a Trump-allied lobbyist.
Speaking of cloud giants...
Google, which at one point was in the running for JEDI until it bailed out, reconfirmed this week it is no longer working on Dragonfly, its censorship-friendly search engine tailor made for China.
In March, the Big G said it had walked away from the work-in-progress project without deploying anything. On Tuesday, an executive insisted at a Senate hearing that the system had been "terminated," and its engineers reassigned to other efforts. The web giant may still work on other web tools for China, though.