This article is more than 1 year old
We don't mean to poo-poo this, but... The Internet of S**t has literally arrived thanks to Pampers smart diapers
You can monitor your child – and their bowels – 24 hours a day! Which is… great?
What's that unpleasant whiff? No, it's not little Johnny's sticky bowel movement but the new "smart diaper" containing his special effort.
That's right, folks – this month brings us a literal internet of shit, courtesy of Pampers, which for some ungodly reason has decided to add app technology to its namesake absorbent underpants.
The Lumi by Pampers range, launched this week, is being marketed as "supporting babies' daily development" but the truth is that's just a way to make phone-obsessed parents buy the product and feel better about themselves.
Are you overly anxious about your child and compensate by trying to control everything in their lives? Of course you are. Do you want to know when your precious baby has taken a dump by receiving an alert on your phone – because you spent all your time interacting with a little screen rather than with the actual tiny human you profess to adore? Perfect, welcome to the Lumi range.
Here is a chance to use your rapidly diminishing disposable income to buy your way out of proper parenting – and feel good about yourself at the same time. What, after all, is more precious than our time? So why waste any of it checking on your child when dead-eyed technology can do it for you?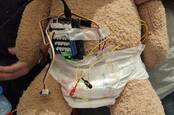 Intel imagines chips in nappies to create the Internet of
sh*t
things
READ MORE
It's not just internet-connected underpants. Pampers has "partnered with Verily and Logitech" to create "the world's first all-in-one connected care system that's revolutionizing baby monitoring by helping parents monitor and track their baby 24/7."
Modern technology really is amazing. You can now buy products that help you monitor and track your baby every second of the day when all we had previously were ears and eyes.
Go all out and add a "video monitor with activity sensor" and Lumi will "blend real-time data" and offer parents "insights tailored to their unique baby using the Lumi by Pampers app." And just think that before this people used outdated and old-fashioned brains.
Very impressed
Here is one happy mom's testimonial. "I'm very impressed with Lumi," explains test-subject Carly. "The sleep tracking functionality is very cool. I've been wanting to track my daughter's sleep, but it's too hard to do it manually. It's very cool to see her sleep tracked nicely in a chart form in the app."
Yes, it is, isn't it? We need charts for our babies. We need to know precisely how well our baby slept because it's just too hard otherwise. How many times have exhausted parents passed out due to being up half the night and then had ABSOLUTELY NO DATA on how their baby slept? It's inhumane if you think about it.
Plus how are you supposed to know how good a parent you are without having colorful charts? How do you figure out how to become a better person without paying a third party to give you arbitrary information? No doubt you can even post your crotch goblin's defecation and sleepy time on your favorite social network.
"You can go from sight to true insight," explains Pampers. But let's be honest, what it really means is that you can wander off and get some relaxation time to yourself without feeling guilty. Because you've got the kid under constant surveillance.
There is nothing wrong with this. It is a great idea to replace frequent human interaction with only-as-needed communication prompted by phone alerts. That gives Mommy more time to focus on her Instagram feed and Dad can take some well-earned video game breaks. It is simply more efficient parenting. And you'll have the data to prove it. ®