This article is more than 1 year old
France seeks science-fiction writers to help futureproof its military against science-fact
'Aliens'
The French army has said it is looking to recruit four or five sci-fi writers and futurologists to staff a "Red Team" that predicts future threats and how to disrupt or defend against them.
The unit will be run by the l'Agence Innovation Défense and DGRIS – the defence strategic unit.
It will be expected to "propose scenarios of disruption" and to consider the impact of disruptive technologies, and the use of asymmetric technology like artificial intelligence by state and non-state actors.
The move is part of France's "Document d'orientation de l'innovation de Défense (DOID) 2019" – which promises the creation of a French space force as well as better cyber defence capabilities and assessment of the role of robots and big data in future conflicts.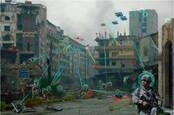 Get ready for the Internet of Battle Things, warns US Army AI boffin
READ MORE
It's not the first time the military has turned to fiction writers. The US Department of Defense and CIA reportedly got some Hollywood screenwriters and directors on board after the 9/11 attacks to brainstorm possible future terrorist attacks.
Attempts to confirm these meetings have so far been unsuccessful.
The Network Science Division of the US Army Research Laboratory, told the Conference on Applied Machine Learning for Information Security last year that inside two decades, humans will be "just one species of intelligent beings" on the battlefield - robots, sensors, smart weapons, autonomous vehicles, and wearable things being the others.
If you fancy the job, there's more information here. ®