When Harry met celly: NSA hoarder thrown in the clink for 9 years – after taking classified work home for decades
Contractor Martin sentenced for squirreling away 50TB of hush-hush files, exploits
An ex-NSA contractor who admitted stashing some 50TB of secret US government documents and exploit code at his home was today sentenced to nine years behind bars.
Harold Martin, 54, was given the nine-year term along with an additional three years of supervised release by Judge Richard Bennett in a US federal district court in Maryland.
The sentence was in line with the guidelines for the single count of willful retention of defense information that Martin agreed to plead guilty to as part of a plea deal that was cut earlier this year.
Martin admitted to collecting terabytes of hush-hush dossiers, manuals, code, blueprints, and such files, from the NSA over the course of his 22-year career as a private contractor with the American intelligence agency. From 1993 to 2006, Martin hoarded data classified as "Secret" and "Top Secret" and took them home to his Maryland residence.
The documents Martin stole were said to include NSA reports on its targets and the intrusion techniques foreign hacking groups had used against Uncle Sam. He also collected software and documents on the exploits and monitoring tools that NSA and US government hackers used against foreign targets.
"Many of the documents Martin stole bore standard markings indicating that they contained highly classified information of the United States, including 'Secret' and 'Top Secret', as well as Sensitive Compartmented Information. The information in the classified documents included National Defense Information," the government said in its 2017 indictment (PDF) of the ex-contractor.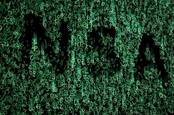 Snowden files confirm Shadow Brokers spilled NSA's Equation Group spy tools over the web
READ MORE
"Martin retained stolen documents, in hard copy and digital form, containing National Defense Information and classified information in a number of locations within his residence and in his vehicle."
It is believed that some of those documents and code would eventually end up as part of the massive Shadow Brokers intelligence dump.
Lawyers for Martin argued that he never intended to disseminate any of the collected NSA information. Rather, he was seeking to build a personal archive of data in part due to hoarding tendencies he had developed.
In taking the single guilty plea, he avoided a longer sentence from nine other charges of the same crime. Still, it is the longest sentence yet given to a person convicted of leaking US intelligence documents.
By comparison, NSA whistleblower Reality Winner was handed a five year sentence for her document leak, and ex-contractor Nghia Pho got five and a half years for taking home classified docs that were later stolen by Russian hackers. ®