Arrested development: Cops dump Amazon's facial-recognition API after struggling to make the thing work properly
15 months of wrangling and Orlando couldn't even begin testing AI cloud tech for population surveillance
Orlando cops have given up using Amazon's controversial cloud-based facial recognition to monitor CCTV cameras dotted around the Florida city – after a nightmare year of technical breakdowns.
The decision came after officers attempted and failed to tap into Amazon's Rekognition API, which they hoped would automatically flag up suspected criminals in streams of live surveillance camera footage. After 15 fruitless months of trying to get the whole thing working properly, with help from Amazon's staffers, the US city's police force ended its contract with the web giant.
"We haven't even established a stream today," the city's chief information officer Rosa Akhtarkhavari told the Orlando Weekly on Thursday. "We're talking about more than a year later. We have not, today, established a reliable stream."
The plod wanted to feed photos of suspected or known crooks into Amazon Web Services' Rekognition API, and have the backend software automatically search live streams of CCTV footage for occurrences of those faces in real time, allowing officers to know immediately the whereabouts of persons of interest. Amazon techies had apparently visited the city numerous times to work with the police to get the system to work properly.
'Randomly disconnect'
Akhtarkhavari complained of "bandwidth issues" when more than one camera feed was fed into Rekognition. When the cloudy tech happened to work with the city's cameras, video feeds would "randomly disconnect," we're told. Thus, Orlando's pilot programs [PDF] to monitor citizens using Rekognition never got off the ground: "We've never gotten to the point to test images," the info officer said.
There were other technical headaches, too, some of which were down to the cameras themselves. Former Orlando police chief John Mina said the equipment didn't seem to be compatible with Rekognition. Amazon offered some of its own CCTV cameras for the pilot test, though city officials declined to use the kit.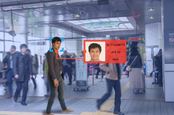 Let's face it. We need to face up to facing off with face-recog tech, say US senators: Bipartisan AI privacy law proposed
READ MORE
The cameras placed in downtown Orlando were also too high. Situated ten feet off the ground, the cams' footage often just showed the tops of people's heads and not their faces. Orlando Weekly also said the backend software, which uses machine learning algorithms to identify faces after being trained on millions of photos, was too advanced for the police to handle.
An Amazon spokesperson declined to address any technical issues on the record, but did tell The Register: "We believe our customers – including law enforcement agencies and other groups working to keep our communities safe – should have access to the best technology. We also believe that facial recognition can materially benefit society, as we've seen with Amazon Rekognition's use to combat human trafficking, as one example."
Akhtarkhavari and city officials were not immediately available for comment.
Orlando's chief administrative office did tell the city council in a memo [PDF] that: "At this time, the city was not able to dedicate the resources to the pilot to enable us to make any noticeable progress toward completing the needed configuration and testing. [The city has] no immediate plans regarding future pilots to explore this type of facial recognition technology."
Amazon has encountered internal and external backlash over its controversial facial recognition technology. An investigation by the American Civil Liberties Union, a non-profit based in New York, showed the tool struggled more when asked to identify women and people of darker skin. Congressfolk were mistakenly identified as crooks in another experiment.
Congratulations to Orlando for finally figuring out what the ACLU and our partners have long known – Amazon's tech doesn't work and is a threat to communities. https://t.co/rg6J8ridSQ

— Matt Cagle (@Matt_Cagle) July 18, 2019
Amazon has also been pushing the technology to the US government. A letter published by the Project on Government Oversight (POGO), a non-profit organization investigating Uncle Sam, showed Amazon employees discussed using the technology with Immigration and Customs Enforcement (ICE). Amazon appeared to have visited ICE's offices in Silicon Valley in June, last year. ®