This article is more than 1 year old
Enjoying that 25Mbps internet speed, America? Oh, it's just 6Mbps? And you're unhappy? Can't imagine why
Internet testers went down to Georgia and found a fraud
Comment American internet users are, seemingly, getting a quarter of the internet speed they are paying for.
That's the upshot of yet another survey, this time in the US state of Georgia, that demonstrates that American consumers are being institutionally lied to about their broadband.
The Atlanta Journal-Constitution hired a data specialist to do a statewide study of what internet users were really getting when it comes to broadband. After compiling readings from over 380,000 individual users across the state, the results were even worse than expected: internet users are getting just 6.3Mbps on average despite official US government statistics saying the figure was four times higher at 25Mbps.
That is critical not just because it means people have to wait longer to download information from the internet but because the entire structure of oversight that is designed to make sure there is adequate broadband across the US is built around the 25Mbps figure.
It's worse than that however: people pay for a 25Mbps service and often make that decision based on their needs, deciding not to pay more for a faster service. But then they receive speeds that are inadequate for their needs. The Atlanta Journal-Constitution uses as one example a trucker who is unable to complete coursework for truck-driving training classes he is taking because his home internet service is simply too slow.
The survey went to some lengths to make sure its findings can't be undercut by cable industry lobbyists. That careful and in-depth approach to calculating internet speeds stands in stark contrast to the system and methods used by the cable companies and America's comms watchdog the FCC, which lawmakers, broadband advocates, smaller ISPs and even some FCC Commissioners have been complaining about for years.
Self-reporting
Despite the readily availability of accurate and reliable software that ordinary Americans can use to measure and report their true internet speeds, the FCC continues to rely on self-reporting from cable companies, mobile operators and ISPs – despite repeat evidence that they are misrepresenting and, in some cases, simply making up figures.
The issue of wildly inaccurate "broadband maps" have been repeatedly brought up in the past year, including at Congressional hearings, but the FCC – and notably its chairman Ajit Pai – continues to slow-walk solutions while claiming in official reports that there is sufficient competition and progress in broadband provision.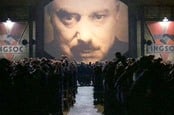 FCC boosts broadband competition by, er, banning broadband competition in buildings
READ MORE
The official US government definition of broadband is 25Mbps down and 3Mbps up. That is a critical figure because it dictates where resources are focused and obligates the FCC to act if that broadband speed is not being met.
The FCC has a wide range of powers that it can use to force ISPs to offer faster and more extensive internet access. And, under the previous chairman, the FCC informed cable companies it was prepared to do precisely that to bring the US in line with other Western nations.
Notably, however, the current FCC chair Pai and his fellow Republican commissioners fiercely opposed the broadband standard being raised from 10Mbps to 25Mbps – a change that happened back in 2015.
One of the first things Pai did on taking over the chair in 2017 was embark on a bizarre effort to undercut that speed requirement by redefining how broadband was to be measured – an approach that would have effectively lower the speed back down to 10Mbps. That caused a fierce backlash, and Pai was forced to abandon the plan.
Let's pretend
But the cable industry and the FCC continue to pretend that they are offering 25Mbps in huge swathes of the United States in order to meet federally mandated targets. This report from Georgia over the summer simply reiterates what countless other surveys have revealed: that the true speed that American netizens are receiving is far lower than what is being claimed. It is notable that a recent survey showed that of the top ten fastest ISPs in the US, six of them are small, independent providers rather than the huge corporations that dominate the market.
The problem goes beyond the speed issue, too. The cable companies and FCC continue to knowingly mislead Congress and the American people about competition in the broadband market. Again, the poor state of actual measurement and the reliance on the industry to self-report when it is in their direct financial interest not to provide accurate figures is causing widespread inaccuracy.
Cable companies have also long used a loophole in the measuring system where provision of internet access is measured by the census block. If one person in a census block receives broadband from one company – even if literally no one else in that block can receive it – then the company reports that entire block as being covered.
The result is that the industry reports a degree of competition that simply doesn't exist in reality. And the result is slower internet speeds at higher prices, alongside a watchdog – the FCC – that does nothing to correct the problem.
Not a secret
Everybody recognizes the problem. The FCC's Pai has repeatedly said that rural broadband is one of his key priorities and President Trump has repeatedly referenced the same issue alongside a range of efforts to fix it. There is a huge risk of a growing digital divide in the US, with rural areas falling behind modern technological advances due to slow or non-existent internet access.
But until the FCC and the cable companies can be relied upon to provide accurate measurements of internet speed, there is simply no way to make fast internet access for the most technologically advanced nation in the world a reality. There is even the crazy example of where one industry lobbying group argued that they should be subsidized to provide slower-than-broadband access.
This latest survey is further evidence that the current system has to be torn up and thrown away and a better, more accurate system introduced as soon as possible. ®