Google, Facebook, and, surprisingly, Oracle are among the top ten third-party companies that frequently track your personal sexual interests every time you watch porn, according to new research.
Switching to incognito mode in your browser might darken your screen and provide you with the perfect ambiance to surf the most salacious parts of the internet secretly. Although your browsing history and cookies won't be saved on your laptop, it doesn't mean that other companies can't snoop on what x-rated clips you like you watch.
A team of researchers at Microsoft, Carnegie Mellon University (CMU), and the University of Pennsylvania in the US analysed 22,484 pornography websites and found a whopping 93 per cent of them pass on user data to a number of third parties. Google, Oracle, Facebook, and Cloudflare, along with other adult entertainment companies, track the URLs you visit, your IP address, and how long you spend on these naughty websites. The results are out in a paper on arXiv.
The team used webXray, a software tool, to sniff out what kind of data is being shuttled from those websites and to who that information is being given to. It's obvious why Google and Facebook want to know what floats your boat as it helps them build profiles of you so that they can target you with better, more relevant adverts online. The kind of porn you're into can provide the most basic information, like your gender and sexual identity.
But what about the cloud platforms Oracle and Cloudflare? The Register approached Big Red for comment, a spokesperson told us he was "looking into [the issue]". Timothy Libert, a researcher at Cylab, a security and privacy institute at CMU, told us that Oracle has been creeping on web user data for a while now.
"Oracle has steadily moved into web tracking over the past several years, going beyond their core competencies in data processing to large-scale consumer data collection," he said.
"They've had to catch up with Google, but through a series of acquisitions they've become a major player in web tracking and have thus far stayed out of the press and regulator's crosshairs." Cloudflare, on the other hand, is a major web hosting biz that supports your porn streams so its interest in your sexual habits is probably a little more innocent.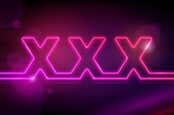 We knew it was coming: Bureaucratic cockup triggers '6-month' delay of age verification block on porno in the UK
READ MORE
Tracking is "endemic" on pornography websites, the study finds. The researchers found that 79 per cent of webpages leaked an average of nine different cookies to third parties, and what's worse only 17 per cent of these sites were encrypted.
Porn user data is particularly sensitive; it reveals the most intimate and potentially embarrassing details of your sexual desires and habits. Watching skin flicks on incognito might keep that personal information from your spouse or kids but not to your some of these giant tech corps.
"Incognito mode is basically worthless against tracking, VPNs require one to place total trust in the operator, and even the best tracker - and ad-blockers don't have 100 per cent coverage," Libert said.
There's a chance that you might be able to opt-out of sending your sensitive data out, but that's probably a nightmare to do considering that the privacy terms and conditions are difficult to find, let alone understand. The researchers only managed to extract privacy policies for only 17 per cent of the 22,484 websites and 85 per cent of them didn't even disclose they were subjecting visitors to third-party tracking.
So what's the best way to watch porn privately? Probably Tor, Libert said. "Tor browser bundle is the best bet for those with high concerns, but there can be issues with rich media transfer over the limited bandwidth." ®