This article is more than 1 year old
Google settles a four-year age-discrimination battle with 227 engineers by dishing out... $11m
Is that 'Googley' enough for you?
Google has settled out of court with 227 people, who had accused the web giant of age discrimination, for $11m. After all the legal fees are deducted, each person will, on average, get a payout of a little over $35,000.
Back in 2015, a group of 234 techies banded together to sue Google, alleging that its recruiters "engaged in a systematic pattern of discrimination against applicants age forty and older for three positions across the United States."
On Friday, the four-year case ended with the Chocolate Factory negotiating settlement payments [PDF] for 227 techies; seven people chose not to accept the deal. Google continues to deny any wrongdoing.
The case, brought before California's district courts, centered on the internet goliath's hiring practices for three types of jobs: site reliability engineers, software engineers, and systems engineers. The plaintiffs believed they were qualified for those technical roles yet were snubbed for being too old, after being rejected following on-site interviews. Each applicant was aged 40 or older at the time.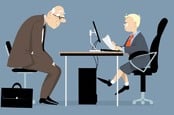 Oracle's legal woes deepen: Big Red sued (again) for age and medical 'discrimination'
READ MORE
More than 419,000 pages of documents and data regarding Google's applicants and employees were passed to an economics expert by the the plaintiffs in hope of boosting their case: the engineers wanted to demonstrate there was statistical evidence that older folks were being overlooked after on-site interviews. Due to the settlement, it looks as though the egghead's analysis won't be revealed.
The $11m will be shared with 227 people. The plaintiffs' lawyers will receive $2,750,000 – or 25 per cent of the share. There were also administrative costs of $21,390 plus $174,349 in out--of-pocket expenses, meaning that each spurned engineer will receive about $35,000 in the end. The group are requesting an extra payment for Cheryl Fillekes, a software engineer who has interviewed with Google four times over seven years from 2007 to 2014, for leading the action.
Silicon Valley is known for its fixation on youth, and Google isn't the only biz to have been sued for age discrimination. Oracle and IBM currently face age-discrimination lawsuits, too. ®