This article is more than 1 year old
Tech jocks headed for White House powwow on 'economic matters' (read: Huawei ban)
Qualcomm, Google, Micron, Microsoft, Broadcom and Intel said to be invited
White House economic adviser Larry Kudlow is reportedly meeting Silicon Valley bigwigs today to discuss the placement of Chinese telecoms giant Huawei on the US trade ban Entity List.
The placement of Huawei and other firms on the Commerce Department's Entity List requires US suppliers to seek permission, which is rarely granted – before trading with them.
American treasury secretary Steven Mnuchin was said to be attending the meeting along with execs from Intel, Qualcomm, Google, Micron, Microsoft and Broadcom, according to Reuters.
US prez Donald Trump's administration confirmed the meeting was happening, but claimed it was to discuss broader economic issues. However, the official also told Reuters that Huawei was expected to come up.
Huawei's placement on the list was originally billed as a national security issue, but Trump later linked Huawei's legal status with a wider trade deal with China.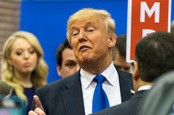 Yuge U-turn: Prez Trump walks back on Huawei ban... at least the tech sector seems to think so
READ MORE
On track to become the world's largest handset maker as well as a major supplier of 5G network kit, Huawei relies on US components and Google's Android services, which were both hit by the initial Entity List banhammer.
The confusion began in May when Trump said US companies could no longer sell components to Huawei without specific licences. This position was suspended for 90 days when the Department of Commerce granted a temporary general licence allowing US businesses to export or transfer "information and communications technology or services" to Huawei. That reprieve ends on 19 August, just four weeks from today.
The US is also trying to keep Huawei out of its 5G networks and has been leaning on its allies to follow suit, which hasn't gone particularly well.
The UK's Science and Technology committee could find no technical reason to exclude Huawei equipment from next-generation mobile networks. Huawei is a major patent holder of 5G hardware.
UK mobile networks have repeatedly called on the government to get on with making a decision – Huawei kit was meant to be approved this spring and a ruling is now promised next month. ®