This article is more than 1 year old
Microsoft bungs a billion bucks at biz developing AI that will take our jobs 'for the benefit of all'
Ours too, though OpenAI says GPT-2 model won't be released
Microsoft has plowed $1bn into OpenAI, a San-Francisco-company that is working on artificial general intelligence (AGI).
OpenAI is a nonprofit-for-profit organisation founded in October 2015 by investors including Elon Musk and Sam Altman, the latter now CEO of OpenAI.
According to a statement today, the two companies have agreed on three points of cooperation. First, they will work together on "Azure AI supercomputing technologies". Second, OpenAI will port its services to run on Azure, and third, Microsoft will be OpenAI's "preferred partner" for commercializing AI.
Taking care not to understate his case, Altman said: "The creation of AGI will be the most important technological development in human history, with the potential to shape the trajectory of humanity."
The big deal here, though, is $1bn of Microsoft's cash to support OpenAI's efforts to develop "a hardware and software platform within Microsoft Azure which will scale to AGI".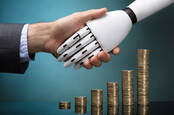 Nonprofit OpenAI looks at the bill to craft a Holy Grail AGI, gulps, spawns commercial arm to bag investors' mega-bucks
READ MORE
Altman said AGI is intended to go beyond today's deep neural networks in order to make its own multi-disciplinary connections. The OpenAI charter states that AGI means "highly autonomous systems that outperform humans at most economically valuable work". The charter also includes a commitment to "ensure [AGI] is used for the benefit of all, and to avoid enabling uses of AI or AGI that harm humanity or unduly concentrate power".
That commitment came under question in February this year when OpenAI developed an AI model, called GPT-2, which it was claimed could be used to generate news reports that were hard to distinguish from human-authored ones, a dangerous tool in an era of fake news.
"Due to our concerns about malicious applications of the technology, we are not releasing the trained model," the company said.
Working closer with Microsoft might also appear to set at risk the intention not to "unduly concentrate power," though Nadella promises to keep "AI safety front and center."
OpenAI "requires a lot of capital for computational power," said Altman, and Microsoft's investment relieves them of the need to build a product in order to raise that capital. The implication, perhaps, is that OpenAI would otherwise have struggled to continue its research at planned levels.
But AI is a crowded field, and whether OpenAI can really outpace competition like Google, Amazon, IBM and others is an open question. ®