Microsoft has cut a deal with the US government to settle charges one of its European subsidiaries was bribing officials from 2013-2015.
Under the deal announced Monday, Microsoft will pay $8.7m to settle a Department of Justice (DOJ) investigation of violations of the Foreign Corrupt Practices Act on the part of its Microsoft Hungary business, or to give it its full name Microsoft Magyarország Számítástechnikai Szolgáltató és Kereskedelmi Kft.
In paying the money, Microsoft avoids having the matter go to court and will not face prosecution. All of the staff involved have lost their jobs. To recap: after accusing Redmond of paying money to skirt legal process, the US government asked Microsoft to pay it money rather than go through the legal process. Lesson learned.
The settlement includes an admission from Microsoft Hungary that, between 2013 to 2015, a senior executive and three sales staff inflated their margins by reporting to the home office that they needed to offer steeply discounted prices on software licenses sold to government customers. In reality, Microsoft Hungary was selling the licenses at full price and using part of the extra cash to make payoffs to officials to keep the scheme going.
In an email to employees, Microsoft VP and legal head Brad Smith said Redmond was "deeply disappointed and embarrassed" over the actions of its subsidiary and said that, in addition to cooperating with the government and severing ties with four local resellers in Hungary, Microsoft will be overhauling its government discount program and stepping up its anti-corruption program and the system it uses to flag suspicious sales deals.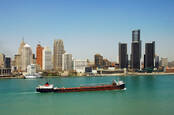 From Motown to lockdown: Detroit bathroom bung IT exec gets one year in the clink
READ MORE
"We recognize that no business process can offer a perfect guarantee of eliminating all global instances of a human frailty that is as old as humanity itself. That's why we need strong laws and effective enforcement by agencies such as the DOJ and the SEC in the United States and around the world," Smith said in the public letter.
"And it's why across the business community we need not only to be vigilant but committed to putting the world's most advanced technology to work to help fulfill the strong ethical principles that the public rightfully expects us to uphold."
Likewise, the DOJ lauded Microsoft for its cooperation, noting it gave Redmond a discount on the final settlement because the company was so accommodating.
"For example, Microsoft Hungary terminated four licensing partners and Microsoft Corporation has implemented an enhanced system of compliance and internal controls, company-wide, to address and mitigate corruption risks," the DOJ said.
"Accordingly, the criminal penalty reflects a 25 percent reduction off the bottom of the applicable US Sentencing Guidelines fine range for the company's full cooperation and remediation." ®