This article is more than 1 year old
Here we go: Uncle Sam launches antitrust probe into *cough* Facebook, Google *cough* Amazon *splutter* Twitter...
No names given, probably because we all know who they're talking about
The US Department of Justice has begun a probe into possible anti-trust violations by US tech giants.
In an announcement on Tuesday afternoon, prosecutors said they had kicked off an investigation with the aim of "reviewing whether and how market-leading online platforms have achieved market power and are engaging in practices that have reduced competition, stifled innovation, or otherwise harmed consumers."
The brief statement issued by the Dept of Justice's office of public affairs stops short of specifying exactly who is in the government's crosshairs. It is a safe bet, however, that the likes of Google, Amazon, Facebook, Apple, and possibly Twitter will be given a close look.
"Without the discipline of meaningful market-based competition, digital platforms may act in ways that are not responsive to consumer demands," said Makan Delrahim, assistant AG for the Antitrust Division. "The Department's antitrust review will explore these important issues."
Uncle Sam's g-men did not provide any sort of information about when the investigation would begin or what organizations would be involved, but did promise that "if violations of law are identified, the Department will proceed appropriately to seek redress."
The President's conservative base has long claimed that Twitter and Facebook are "biased" against them when it comes to content moderation and bans (liberal groups have made similar accusations on their side), and Trump in particular has criticized the social networks and Amazon, whose founder Jeff Bezos owns the Washington Post.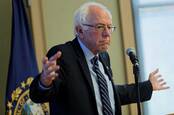 Awkward! Bernie tells Bezos-sponsored event he'd break up Amazon and other tech titans
READ MORE
Earlier today, Trump echoed those sentiments in a speech given to conservative group Turning Point USA.
"We're looking at a lot of things because they have not treated us, as Republicans and conservatives — even when you get into religion, they have not treated us fairly. They haven't treated us fairly," the President said.
"A free society cannot allow social media giants to silence the voices of the people. That is why I've asked my administration to explore every possible regulatory and legislative solution because you have to have free speech."
When contacted by The Register, Twitter declined to comment on the Justice Dept's announcement. Facebook, Google, and Amazon did not respond to requests for comment.
While hardly a market plunge, shares in all four companies were down slightly in after hours trading ranging from 0.9 per cent (Twitter) to 1.6 per cent (Facebook). Meanwhile, earlier today, the US Attorney General launched a broadside at the US tech world in demanding encryption backdoors. ®