This article is more than 1 year old
Just add water: Efficient Energy's HFC-free chillers arrive in the UK
The EU goes to war against refrigerants – so the German upstart designed a system that uses tap water
An unusual data centre cooling system that dispenses with expensive, environment-damaging refrigerants in favour of tap water is now available in the UK.
The eChiller, developed by German startup Efficient Energy, is built on a somewhat ridiculous premise: instead of fluorinated gases like R-134a – which have a high global warming potential (GWP) and are being phased out in the EU - water is circulated in a closed-loop system driven by a compressor, and the company claims it can do the job as well as traditional refrigeration agents.
The eChiller was previously only available in the DACH area – which includes Germany, Austria, and Switzerland - but back in April, Efficient Energy announced it would start exporting its systems further afield. "Growth in international markets is one of our top corporate goals for the upcoming years," Thomas Bartmann, the company's head of sales, said at the time.
Now, the system has arrived in the UK, available through Blackpool-based Green Thermal Energy, reports industry website CoolingPost.
After eight years of R&D, the eChiller was launched in 2014, with individual units offering anywhere between 20kW and 45kW of cooling capacity. Its optimal cooling performance lies in a range from 16°C to 22°C (61 to 72 in Freedom units), but outlet temperatures of between 10°C to 28°C (50 to 82 Fahrenheit) are also supported.
The eChiller is available in a one and two-stage version and can be deployed outdoors; several systems can be connected to deliver up to 300kW of cooling.
Some of the liquid cooling approaches rely on water, whether delivering it directly to chip through a complex network of pipes and plates – like in Dell's ill-fated Project Triton - or as part of a secondary cooling circuit, like in systems from British upstart Iceotope, or its European cousins Submer or Asperitas. Efficient Energy is the first, and so far, only company to reimagine a traditional chiller with only water inside.
Liquids are hundreds of times better at removing heat than air, and water even got its own refrigerant designation, R-718. Naturally, none of the environmental and safety regulations relating to the current and future operation and maintenance of refrigeration units apply to H2O.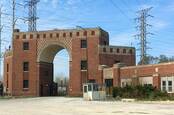 Wholesome: Waste heat from coal power station turned data centre to help grow veggies
READ MORE
Efficient Energy's international expansion comes at a time when European manufacturers are phasing out dangerous refrigerants, in line with the requirements of the EU Regulation No 517/2014, popularly known as the F-Gas Regulation.
New rules came into force in January 2015, aiming to limit the production and stockpiling of hydrofluorocarbons (HFCs) - something that resulted in refrigerant shortages and pushed cooling specialists to look for alternatives.
There's just one problem with this dynamic: the UK is expected to leave the EU, possibly as soon as October 31, and those nasty refrigerant gasses could be about to stage a comeback.
"As of the withdrawal date, the EU rules on fluorinated gases, and in particular, Regulation (EU) No 517/2014 of the European Parliament and of the Council of 16 April 2014 on fluorinated greenhouse gases will no longer apply to the United Kingdom," the European Commission said in one of its Brexit preparedness notices [PDF]. ®