American aeroplane maker Boeing has swung to a $3.38bn loss from operations in its latest quarterly financial results following well-publicised woes over the 737 Max crashes and software failure.
Revenues for calendar Q2 ended 30 June of $15.75bn were way, way down on the $24.25bn reported a year ago. This included $13.09bn of product sales, down 39.2 per cent, and services of $2.657bn versus $2.69bn a year ago.
Boeing said the top line was hit due to "lower 737 deliveries partially offset by higher defense and services volume".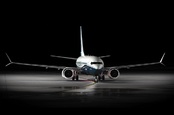 Airlines in Asia, Africa ground Boeing 737 Max 8s after second death crash in four-ish months
READ MORE
"During these challenging times, teams across our enterprise continue to perform at a high level while delivering on commitments and capturing new opportunities driven by strong, long-term fundamentals," said Boeing chief exec Dennis Muilenburg.
Boeing Commercial Airplanes (sic), the division that builds the infamous 737 Max, recorded an operating loss of $4.946bn compared to an operating profit of $1.785bn a year earlier. This was on revenues of $4.722bn, down year-on-year from $13.952bn.
The company said it took a $5.6bn charge against its revenues because of the 737 Max controversy halting deliveries of airliners to customers.
IAG, the multinational group that owns British Airways and Vueling, has kept its letter of intent to purchase 200 737 Maxes in force, though whether BA – which in recent years has leaned further and further towards Airbus – will receive any of these is questionable.
"Commercial Airplanes' backlog remains healthy with more than 5,500 airplanes valued at $390bn," said Boeing's accounting statement.
Boeing's Defense, Space and Security division, which among other things sells 737-derived aircraft such as the P-8 Poseidon and the E-7 Wedgetail to the RAF, as well as the Chinook heavylift helicopter and Apache attack helicopter, recorded an 8 per cent year-on-year rise in revenues to $6.612bn and an operating profit of $975m, more than doubling the previous year's operating profit of $376m.
Global Services hauled in $4.543bn in revenue, up from $4.097bn, and it posted an operating loss of $687m versys $604m.
Costs and expenses left the Chicago-based company with an operating loss of $3.38bn versus an operating profit of $2.71bn for the same period in 2018. A tax benefit and "other income" meant the company exited the quarter with a net loss of $2.94bn, down from Q2 '18's net profit of $2.19bn.
A month ago Boeing found a second bug in the 737 Max digital control architecture that caused one of the airliner's flight control computers to freeze. ®