This article is more than 1 year old
Privacy? Watchdogs? Fines? Whatever, nerds, more people than ever are using Facebook and filling its deep coffers
Zuck to Uncle Sam: Go ahead, regulate me, regulate me like the naughty little founder I am
Facebook is stronger than ever, despite the best efforts of the US government to rein it in over privacy and legal violations.
The House of Zuck on Wednesday revealed gains [PDF] in revenues, daily active users, and mobile advertising in the second quarter of 2019, as it took those massive settlement fees in its stride.
For the three months to June 30:
Revenues of $16.6bn were up 28 per cent from the year-ago quarter.
Net income was $2.6bn, a 49 per cent decrease on the quarter. This is largely due to a $2bn wedge Facebook coughed up, in addition to the $3bn already set aside, to foot the $5bn settlement fee owed to Uncle Sam's trade regulator, the FTC, regarding its privacy snafus, and a separate $1.1bn charge related to recent changes [PDF] in stock compensation rules. Facebook also owes America's financial watchdog $100m for misleading investors.
Earnings per share of $0.91 were short of the $1.88 analyst forecast, but Facebook notes that absent the tax and settlement charges, EPS would have been $1.99.
Daily active users were up 8 per cent, with 1.59 billion people using the antisocial network on a day-to-day basis. Monthly active users were also up 8 per cent, at 2.41 billion.
Even with the stellar financial returns, the heavy FTC privacy settlement, and the trade regulator's antitrust case into Facebook, continue to weigh heavily on the minds of Facebook's top brass.
Speaking to analysts on a quarterly earnings conference call, CEO Mark Zuckerberg said that rather than expect him and other social networking titans to set the rules on data privacy, free speech, and information sharing, the US government needs to step in and lay down some regulations.
"There is work that we can do, but at the end of the day when our systems are mature there are going to be trade-offs between important values," the Facebook founder explained. "We think that having a more democratic process for setting what some of those norms are will be really helpful.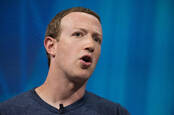 FTC fines Facebook $5bn for making users believe they actually had control over their data
READ MORE
"We believe that there needs to be a regulatory framework in place. My broader concern is if that does not get put in place, then frustration with the industry will continue to grow."
The Zuck is not alone in predicting continued frustration on the privacy front. Earlier today, following the release of details of Facebook's $5bn settlement, the ACLU expressed skepticism that we have seen the last of Facebook's privacy fsck-ups.
"While there is no way to adequately provide restitution to the over 87 million people whose rights were violated, this settlement doesn't even come close to preventing such violations from occurring again. In exchange for modest changes to Facebook's internal structure, the settlement shields the company from responsibility for violations that may not even be known," said ACLU senior legislative counsel Neema Singh Guliani.
"It fails to put strong and meaningful limits on how Facebook collects, uses, and processes user data. It holds no executive personally liable for years of privacy violations and misleading statements made by the company."
In the end, however, none of this seemed to matter much to investors. Facebook shares closed the day up 1.1 per cent and climbed a further 0.6 per cent in after-hours trading. ®