GM Cruise holds off on self-driving taxis for this year, says it needs more testing time to be safe
Really? Johnny Cabs aren't that safe yet, eh? Quelle surprise
---
GM Cruise, the General Motors-owned autonomous vehicle startup based in San Francisco, won't be rolling out self-driving robotaxis in 2019 after all, as the technology isn't quite yet safe enough.
Dan Ammann, CEO of Cruise, said on Wednesday that the biz is still testing its vehicles on the city's roads and will be ramping up efforts by logging more miles with more cars.
"In order to reach the level of performance and safety validation required to deploy a fully driverless service in San Francisco, we will be significantly increasing our testing and validation miles over the balance of this year, which has the effect of carrying the timing of fully driverless deployment beyond the end of the year," according to a statement.
Cruise cars, painted white with the orange Cruise logo imprinted on the side and black lidar sensors spinning on top, are a pretty common sight in San Francisco. Ammann didn't reveal how many new vehicles would be added to its existing fleet and didn't put a new timeline on when they would be available as a ride-hailing service. It's currently building electric automobiles together with Honda and General Motors.
Self-driving cars rely on sensing their environments by processing all the information passing through its cameras and sensors to algorithms. Machine learning software then makes decisions on how the vehicle should be controlled in order to drive safely.
The system requires rigorous training and testing, putting the car in as many different scenarios as possible so it knows how to react to them when it faces difficulties like knowing when to go at busy junctions or driving alongside bicycles.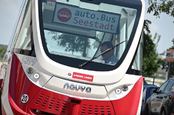 Literally braking news: Two people hurt as not one but two self-driving space-age buses go awry
READ MORE
"When you're working on the large scale deployment of mission critical safety systems, the mindset of "move fast and break things" certainly doesn't cut it. With such high stakes, our first deployment needs to be done right and we will only deploy when we can demonstrate that we will have a net positive impact on safety on our roads," Ammann said.
The startup was founded in 2013 and got its big break when it was acquired by General Motors, the largest US auto manufacturer, in 2016 for more than a $1bn. Since then, it has grown from 40 employees to 1,500 employees. After raising a further $7.25bn over the last year, it is valued at about $19bn. ®