This article is more than 1 year old
Backdoors won't weaken your encryption, wails FBI boss. And he's right. They won't – they'll fscking torpedo it
Give it a Wray, give it a Wray, give it a Wray now: Big Chris steps in to defend blowing a hole in personal crypto
FBI head honcho Christopher Wray is rather peeved that you all think the US government is trying to weaken cryptography, privacy, and online security, by demanding backdoors in encryption software.
During a session at the International Conference on Cyber Security at Fordham University, New York, Wray backed a proposal mooted earlier this week by US Attorney General William Barr: that the cops and Feds should be able to spy on end-to-end encrypted chats and the like.
Barr basically wants mobile apps and other software used by people to hold private conversations and protect their files and information to be backdoored so police and g-men, armed with warrants, can gain access to and decrypt said data on demand.
Wray reiterated the same tired talking points as the Attorney General about more and more criminals going dark and so forth, though he then came up with a rather odd declaration.
"I'm well aware that these are provocative subjects in some quarters," the FBI Director opined. "I get a little frustrated when people suggest that we're trying to weaken encryption — or weaken cybersecurity more broadly. We're doing no such thing."
Except, you know, that's exactly what he's calling for. Top crypto boffins are in agreement that putting a backdoor in an encryption system is easy to do, though mathematically impossible or difficult to implement in such a way that unauthorized persons – think miscreants, spies, rogue or bumbling insiders at tech companies – can't find and exploit said backdoor. Nevertheless, Wray thinks otherwise.
He continued:
It cannot be a sustainable end state for us to be creating an unfettered space that's beyond lawful access for terrorists, hackers, and child predators to hide. But that's the path we're on now, if we don't come together to solve this problem.
So to those resisting the need for lawful access, I would ask: What's your solution? How do you propose to ensure that the hardworking men and women of law enforcement sworn to protect you and your families maintain lawful access to the information they need to do their jobs?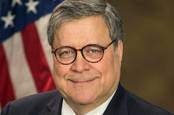 Low Barr: Don't give me that crap about security, just put the backdoors in the encryption, roars US Attorney General
READ MORE
This is where it all goes off the rails. On the one hand, Wray wants to crack encryption so he can snoop on, unmask, and break down the door of, among other scumbags, hackers. And yet, he wants to crack encryption in such a way that, er, hackers can snoop on and unmask citizens by exploiting deliberately introduced weaknesses. In his pursuit of hackers across the nation to protect citizens, he's potentially tearing down the walls that keep hackers out of citizens' private spaces.
"I know we've started hearing increasingly from experts like cryptographers and cryptologists that there are solutions to be had that account for both strong cybersecurity and the need for lawful access," he rumbled on. "And I believe those solutions will be even better if we seek them together."
Yes, there will always be "experts" trying to sell the US government lucrative pie-in-the-sky solutions to this backdoor quandary. Any decent proposed solution will face intense testing and scrutiny. Wray also praised some tech corps for working with the FBI. He cited instances where images of children being sexually abused were posted online using an anonymizing app. FBI investigators worked with the app's developers to identify the perpetrators, and they were then brought to justice, it is claimed. ®