This article is more than 1 year old
If at first you don't succeed, Fold? Nope. Samsung redesigns bendy screen for fresh launch in September
Infinity Display Flex extended 'beyond bezel' so users know not to peel it off
Samsung reckons it has ironed out the death-inducing creases on its Galaxy Fold but is continuing to put the smartmobe through stress tests before a rescheduled September launch.
The foldable screen of the $1,980 device fell short on quality control in early reviews back in April when reports emerged that the screen malfunctioned and in some cases just died. The May release date was then shelved.
One bone of contention for some was the thin layer of plastic on the screen that appeared removable, but wasn't supposed to be peeled off. Others didn't take off the flimsy film but still claimed the screen borked.
Sammy said today the "protection layer", the Infinity Flex Display, has been "extended beyond the bezel" to make it "apparent that it is an integral part of the display structure and not meant to be removed".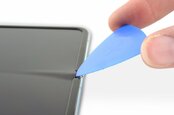 Behold, the insides of Samsung's Galaxy Fold: The phone that tears down all on its own
READ MORE
Other design shifts include a strengthening of the top and bottom of the hinge area with "added protection caps"; more metal layers under the Infinity Flex Display to increase resilience; and a reduction of the space between the hinge and the body of the phone.
The company said something that – to most of us – should have been factored in before releasing a substandard model for reviews.
"Samsung has taken the time to fully evaluate the product design, make necessary improvements and run rigorous tests to validate the changes we made."
In addition to the hardware, Sammy also claimed to have optimised apps and services, and is in the throes of "conducting final tests" with a release due the month after next in "select markets".
Smartphone makers are crying out for innovative ways to inject some life back into a stagnating global market, one in which shipments are forecast to decline 3.3 per cent in 2019, representing the steepest fall on record.
Only Huawei has proved immune to this slowdown, though that was before the political security shenanigans of US president Donald Trump.
The Galaxy Fold, which comes with a premium price tag and some high-end specs (12GB of RAM, 512GB internal storage, stereo speakers), can be opened into a tablet, which has some appeal.
Should the device prove again to have fundamental flaws, Samsung likely won't get another bite of the cherry any time soon, certainly not if Huawei's model – also delayed to September after the embarrassing Fold debacle – isn't blighted by the same frailties. ®