Comment Microsoft has followed up its accidental Windows Insider emission with a grudging sort-of-explanation: something got changed and bad stuff happened. Soz.
The posting, in a community forum, came after the software giant gave its army of unpaid testers an unexpected kicking in the form of an untested internal build of Windows 10 spaffed over the Windows Insider network.
The explanation does little to reassure intrepid testers that the Windows team has much in the way of process control and, frankly, isn't a good look for the programme, which relies on the goodwill of its participants.
You've got 10 days
What happened? "A configuration change allowed this build to release to multiple rings simultaneously, including external rings."
What should you do? If you installed the thing, it's up to you to undo Microsoft's cock-up by rolling-back as soon as possible.
The clock is ticking.
The company warns that lucky users of build 18947 have around ten days to do so (possibly less if Storage Sense is enabled), otherwise getting rid of the accidental emission will be a good deal trickier.
If the install is still pending, then a pause, reboot and unpause should deal with things.
To recap, the Windows Insider programme has three (sometimes four) rings. There is Release Preview, where users get to check out fixes for the current version of Windows 10 (in this case the May 2019 Update, aka 19H1). Then there is the Slow Ring, which is currently enjoying the next version of Windows 10, due to ship in October and known as 19H2. Finally there are the Fast and Skip Ahead rings, which are both toying with next year's Windows 10, 20H1.
On 24 July, Microsoft "unintentionally" sent out an internal, untested version of 20H1 to all rings, booting those on 19H1 and 19H2 into the year 2020 via the medium of flaky code.
While some were happy to get a sneak preview of the interface ideas being bounced around in the bowels of Redmond, others were less than impressed. After all, while Windows Insiders understand that all builds are preview, those rings exist to mitigate risk.
Waving a red flag
The incident raises some awkward questions.
What change control, if any, is the team using that allowed someone to make the change? The Slow Ring is just supposed to be getting the equivalent of cumulative updates – how did a full build get on there? Could the same thing happen to the regular Windows Update channel? What, exactly, has been done to make sure this won't happen again?
And then, of course, what do you do if you aren't able to roll back?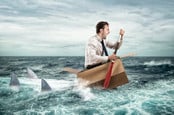 Memo to Microsoft: Windows 10 is broken, and the fixes can't wait
READ MORE
The incident is firstly an example that the quality issues that have dogged the Windows team have not gone away, even after the horrors of the October 2018 Update. Secondly, it is more evidence that, at best, the Windows Insider team really needs to work a bit harder at its communication, or, worse, that it doesn't think there is a problem.
We'd suggest the team takes a good hard look at how Cloudflare handled an incident that took down a chunk of the internet. Or even check how the Azure gang has dealt with its own TITSUPs.
And then ponder if simply saying "we have made the necessary remediation in our Flighting service and have implemented additional changes to help prevent from this happening in the future" is really enough after potentially borking the PCs of Windows Insiders around the world due to a mystery "configuration change". ®