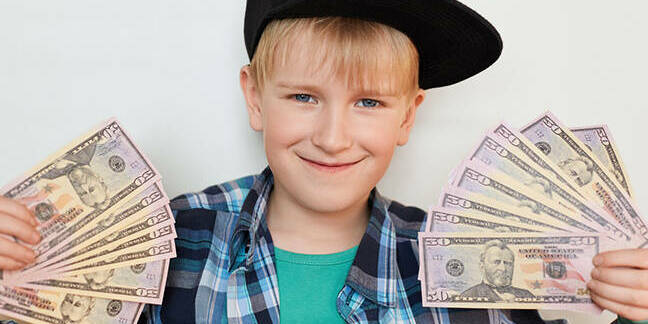 Mega-financial-o-gasm Quarterly earnings season is again upon us this week, and here is a lightning run through the financial results from three of the biggest names in technology: Intel, Google, and Amazon.
Intel dials out of 5G modem business with $1bn Apple sale
Chipzilla is about to get a bit smaller. On Thursday, Intel confirmed the tech world's worst-kept secret that it will offload its 5G smartphone modem unit to Apple for $1bn. In addition to the cellular chip blueprints, Apple will take on 2,200 Intel workers and will get ownership of all of Chipzilla's smartphone modem patents, boosting Apple's portfolio in that space to more than 17,000 patents.
The announcement came as part of an otherwise lackluster Q2 2019 earnings report [PDF]:
Revenues of $16.5bn are 3 per cent down from the year-ago quarter, though beat Wall St's expectations by $800m. PC client component sales were flat at $8.8bn, and data-center sales down 10 per cent to $5bn no doubt thanks to competition from AMD's Epyc. Its FPGA biz was also down five per cent to $489m.
Net income is $4.2bn, a whopping 17 per cent drop from last year, mainly due to costs in upgrading factories from 14nm to 10nm, shortages due to not being able to manufacture enough CPUs to meet demand, and so on.
Non-GAAP EPS of $0.92 saw a 2 per cent increase from the year-ago quarter, and was ahead of analyst estimates.
Intel said that, now that it has dumped its modem unit, it will focus on backend server hardware for the mobile networks themselves.
"We have long respected Apple and we're confident they provide the right environment for this talented team and these important assets moving forward," Chipzilla CEO Bob Swan said of the deal. "We're looking forward to putting our full effort into 5G where it most closely aligns with the needs of our global customer base, including network operators, telecommunications equipment manufacturers and cloud service providers."
Apple, meanwhile, gets a couple thousand Intel engineers under its roof and, more importantly, will become much less dependent on Qualcomm, with who it is not exactly on the best of terms – if it can get Intel's kit to work well enough.
On the 10nm front, Intel now has, apparently, two factories churning out components using the very-late process node, and this could ease the shortage of smaller chips: Chipzilla previously prioritized the production of its beefier, more expensive processors as it shifted assembly lines to 10nm, leaving supplies light for lower-end components. As a result, its market share slipped a little to AMD in Q2.
We're told 10nm Ice Lake client processors are due to ship this year and next, and server-grade Ice Lake CPUs in volume in the second half of 2020, fingers crossed. Chipzilla hopes to move onto 7nm parts from 2021.
Speaking of Intel, it was accused this month of racial discrimination: a Korean-American techie is suing the x86 giant in California, alleging its managers give unfair preferential treatment to Indian engineers over employees of other backgrounds. Intel declined to comment on the lawsuit's specifics.
AWS stands for "All is Well, Still"
Amazon, a cloud computing giant with an online souk on the side, continued its steady growth in Q2 2019 [PDF].
Revenues of $63.4bn were up 20 per cent from last year's quarter.
Net income was $2.63bn, up four per cent from $2.53bn last year.
EPS were $5.22, up from $5.07 last year but short of the $5.57 predicted by analysts.
AWS revenue was $8.38bn, up 37 per cent from $6.1bn last year.
"AWS is being chosen as a partner to many companies because of our leadership position in technology, our vibrant partner ecosystem, and stronger security," Amazon CFO Brian Olsavsky told analysts.
Speaking of Amazon, it was separately revealed today that it enjoys a cozy relationship with some US police forces, going as far as giving cops free front-door surveillance cameras, aka its Ring door-bell gizmos, if the plod encourage folks to use the tech.
Google greedily gobbles greenbacks, gets Gabbard grilling
It was also a solid second quarter over at the Chocolate Factory, as Google-parent Alphabet notched double-digit growth.
Revenues of $38.94bn were up 19 per cent from the year-ago quarter's $32.66bn haul.
Net income was $9.95bn, up 226 per cent on $3.05bn a year ago when Google had to write down a $5.07bn EU fine from what was otherwise an $8.1bn profit quarter.
Earnings per share fell sharply from $14.21 last year to $4.54 this quarter.
Of the Alphabet division, Google made $10.39bn in operating income, up 16 per cent from $8.96bn last year, while "other bets," lost $989m, worse than the $732m the side businesses burned in the second quarter of 2018.
It wasn't all sunshine and dividends for the Mountain View advertising giant, however. Right around the time Alphabet was gearing up to announce its quarterly numbers, aspiring White House hopeful Tulsi Gabbard launched a lawsuit claiming Google had illegally suspended her campaign's advertising account without explanation just hours before the first Democratic Presidential debate.
The suit claims that Gabbard's 2020 campaign was unable to run ads at a critical time when the candidate was among the most-searched people on Google.
"For hours, Tulsi's campaign advertising account remained offline while Americans everywhere were searching for information about her," Gabbard's camp said in a statement. "During this time, Google obfuscated and dissembled with a series of inconsistent and incoherent reasons for its actions."
Google was quick to issue a response.
"We have automated systems that flag unusual activity on all advertiser accounts – including large spending changes – in order to prevent fraud and protect our customers. In this case, our system triggered a suspension and the account was reinstated shortly thereafter," the Chocolate Factory said in a statement to El Reg.
"We are proud to offer ad products that help campaigns connect directly with voters, and we do so without bias toward any party or political ideology." ®
Sponsored: Webcast: Ransomware has gone nuclear