This article is more than 1 year old
The democratisation of IT: Amazon and Microsoft own half the cloud infrastructure market
Choice? Yes, we've heard of it too
Almost half of all the money spent on public cloud infrastructure is now divvied up between Amazon and Microsoft, according to stats from Synergy Research.
In calendar Q2, the market for cloud infrastructure – including IaaS, PaaS and hosted private cloud – shot up 39 per cent over the same quarter in 2018, reaching almost $23bn in revenue.
AWS was responsible for 33 per cent of the total, while Microsoft chowed down on 16 per cent of the pie. Google was in third place, with 8 per cent, followed by IBM (6 per cent) and Alibaba (5 per cent).
Somewhat surprisingly, CRM overlord Salesforce gobbled just 3 per cent, along with Oracle (which invented the cloud, dontcha know), Tencent and Rackspace at 2 per cent each.
Synergy noted that revenue growth for Microsoft, Google, Alibaba and Tencent was above the market average – meaning they continue to grab market share – and yet Amazon atill made more money from cloud than the next four vendors combined.
The overall market for public cloud grew by more than $1.6bn since the first quarter of the year - marking the second highest quarter-on-quarter increase ever recorded. This was the ninth quarter in a row total sales grew more than $1bn.
"Revenues from cloud infrastructure services have almost hit the $100 billion per year run rate, and there is no end in sight to strong growth," said a breathless John Dinsdale, chief analyst at Synergy.
"When quarterly spend on cloud services is mapped out for the last 12 quarters, we are pretty much looking at a steep, straight line growth profile."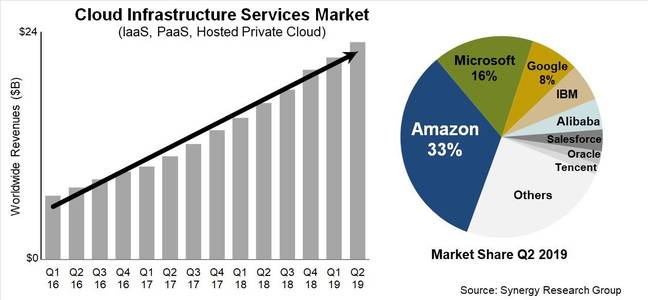 Click to enlarge
A special mention should go to Microsoft, which has just reported decent results, boosted by the Azure cloud business. Q4 cloud revenue rose 39 per cent year-over-year at the company and accounted for $11bn.
"In early 2016 Microsoft was less than a quarter the size of Amazon in this market, while today it is getting close to being half the size," Dinsdale said. ®