Spri-Mobile? T-Print? Time to think of a nickname: The Sprint/T-Mobile US merger is go
Uncle Sam's legal eagles sign off on $26bn mega-mashup – multiple states still not happy with biz deal
Uncle Sam's legal eagles have cleared Sprint and T-Mobile US to go ahead with a $26bn merger the two cellular networks have been planning for years.
The US Dept of Justice on Friday said it, along with five state attorneys general, has agreed to a settlement package with the two telcos that will allow them to ultimately clear the final regulatory hurdle and complete their biz mashup.
Sprint and T-Mobile US have been kicking around the idea of a super-merger since 2013, and have been officially pursuing it for more than a year.
"The T-Mobile and Sprint merger we announced last April will create a bigger and bolder competitor than ever before – one that will deliver the most transformative 5G network in the country, lower prices, better quality, unmatched value and thousands of jobs, while unlocking an unprecedented $43bn net present value in synergies," T-Mobile US CEO John Legere said of the agreement.
"We are pleased that our previously announced target synergies, profitability and long-term cash generation have not changed."
As part of the agreement, Sprint has agreed to sell off certain parts of its businesses to Dish Network, allowing the satellite carrier to enter the mobile space and fill the competitive void created by merging two national wireless providers.
Under the terms of the deal Dish will take over Sprint prepaid customers along with the Boost Mobile and Virgin Mobile brands. Additionally, Dish will get access to 20,000 cell sites and "hundreds" of retail locations owned by Sprint and T-Mobile US.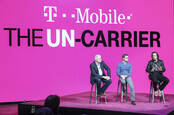 Wanna sue us for selling your location? Think again: You should read your contract's fine print, says T-Mobile US
READ MORE
Finally, T-Mob has agreed to allow Dish to use its broadband network for the next seven years in order to buy the new telco enough time to build out its own network. This will let Dish build using 5G hardware rather than worry about only supporting current-gen devices.
"With this merger and accompanying divestiture, we are expanding output significantly by ensuring that large amounts of currently unused or underused spectrum are made available to American consumers in the form of high quality 5G networks," said Makan Delrahim, assistant AG with the Justice Department's antitrust division.
"Today's settlement will provide Dish with the assets and transitional services required to become a facilities-based mobile network operator that can provide a full range of mobile wireless services nationwide."
Not everyone is so happy about the deal. The Center for Democracy and Technology said in a statement to The Register that it doesn't believe Dish will be able to step in and provide a true alternative for Sprint.
"The notion that Dish, which has talked of building a wireless network but has been sitting on valuable wireless spectrum for years without doing anything with it, will promptly restore competition is fanciful," said CDT senior fellow for competition, data and power Avery Gardiner.
"We all benefit when we have competition and choices, and the Department of Justice is falling down on the job by not protecting American consumers from this unprecedented market concentration in wireless services."
Regardless, the Justice Department approval helps paves the way for the deal to become official, as the FCC granted its blessing back in May. While no date has been announced for the mega-mashup to be completed, T-Mobile US says it expects the transaction to close before the end of the year.
But wait a minute...
One slight issue, we note, though: more than a dozen attoneys general remain unhappy with the super-merger, and are suing to halt the biz deal. They can therefore temporarily or permanently block the proposed transaction if they successfully convince the courts to weigh in. ®