This article is more than 1 year old
Freshly outsourced Home Office project: Overseas student visa IT slammed for delays
And the rush hasn't started yet
UK universities have slammed the Home Office's outsourced visa system for foreign students as not fit for purpose because it leaves scholars waiting weeks for appointments.
The newly outsourced service handled by Sopra Steria requires students to provide documents and biometric details at specific centres rather than at their local post office as was previously the case.
Universities UK said students were paying through the nose for a woefully inadequate service, with some waiting up to 30 days for an appointment.
Alistair Jarvis, chief exec of Universities UK, said: "...the current capacity and level of service being offered by Sopra Steria remains unacceptable. Students and universities cannot be expected to pay to address Sopra Steria's broken system.
"We are calling on Sopra Steria to fully address these concerns before the September surge of students so that students can start their courses with the visas they need.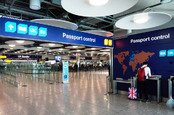 UK Home Office hands Sopra Steria £91m digital visa contract
READ MORE
"International students make a huge cultural and economic contribution to the UK. Sopra Steria should be helping to send a more welcoming message to international students, signalling that the UK is open to talented individuals from around the world, as is the case at our universities."
UK Universities notes the charges are in addition to existing visa costs paid by students and that problems are likely to get worse with the "September surge" which will see some 40,000 students needing to register their biometric details.
The French outsourcer was awarded a £91m contract to develop a digital visa and immigration service in the UK in May 2017, but only took on the contract in October last year. The move was intended to cope with processing immigration status post-Brexit, particularly for the 3 million EU nationals residing in Britain.
Sopra Steria is charging each student £200 to book an appointment at "Premium lounge" based in the City of London to enrol biometrics and have their supporting data checked, or £260 for weekend appointments. There is also a "VIP Service" but prices are subject to quote. Calls to the help line cost £2.50 a minute.
Some universities are considering paying costs for Sopra Steria to provide a "On-demand pop-up" on university premises. Appointments at these pop-up centres cost £50 per 15 minutes paid either by the student or the university.
Cardiff University is considering paying £200,000 to Sopra Steria for a "pop-up centre" to sort out visas for its students.
The company sent us the following statement:
Sopra Steria is working closely with the Home Office, universities and higher education institutions across the UK to deliver the Tier 4 visa application service. This is tailored to each institution's needs to provide greater student convenience and choice. We are focused on adapting the service to respond to areas of greatest demand and are increasing capacity where needed.
Universities UK highlighted issues with accessibility of services using the example of Khalid Elkhereiji, a student at the University of Southampton.
He said: "I use a screen reader which reads on-screen text aloud. Trying to login in to my UKVCAS account to book the appointment I needed for my visa was very frustrating as none of the screen readers I used were able to detect the checkbox which must be selected to confirm the person logging in is not a robot. I spent hours trying to do this, carefully repeating the same steps as it was not possible to identify the issue. This is not a problem that I face with other websites and it meant I was not able to login without the assistance of a sighted person."
Elkhereiji said he contacted Sopra Steria but has not had a response.
The Home Office did not respond to The Reg's enquiries.
Sopra Steria's today reported an 11.4 per cent year-on-year hike in UK revenues to €429.6m (£391.2m) for the six months ended 30 June. Operting profit for the period was €19.8m (£18.03m), up 4.6 per cent. ®