Satellites with lasers and machine guns coming! China's new plans? Trump's Space Force? Nope, the French
After all, what could possibly go wrong, apart from everything?
France is threatening to stick submachine guns on its next generation of satellites as part of an "active space defense" strategy that would enable it to shoot down other space hardware.
That demented idea is part of a broader review of the country's approach to space that has absolutely nothing to do with President Donald Trump's pet "space force" project. It's not just machine guns either, France wants to stick lasers on its satellites and the orbital death machines could be circling the planet as soon as 2023, although 2030 is the planned complete date.
The gun-touting satellite plan was outlined by defense minister Florence Parly late last week at the Lyon-Mont-Verdun airbase and French press reportshave given more details.
Parly talked about efforts by the Russia to spy on French satellites and noted that "eight other satellites from different countries have been spied on, scrambled or blinded." The threat was increasing and, she argued, France's "independence is at stake."
According to weekly news magazine Le Point, the weapons will be used to destroy solar panels or otherwise incapacitate an "enemy satellite." Under an international space treaty signed back in the 60s, there is a ban on most weapons in space, while allowing astronauts to carry sidearms like the Russian TP-82 survival pistol for survival if reentry went off course and cosmonauts ended up in tiger-infested taiga.
With more and more attention being paid to space and with advances in technology, the once unthinkable idea of putting weapons in orbit is becoming a political possibility. Back in 2008, sane policymakers passed a law that prohibited shooting down a satellite, even in self-defense.
But at the start of 2019, France formally started considering the addition of weapons in space – something that reflects growing international tensions between advanced nations. China and Russia and the US have become increasingly aggressive and have carried out tests to shoot down satellites.
Another fine mesh you've got me into
At the same time, private corporations are planning to launch large numbers of small satellites as a way of providing fast internet access.
The machine-gun-on-a-satellite concept is the most extreme part of France's space strategy: it also proposes smaller satellites with cameras to keep an eye out in the skies, electromagnetic pulse weapons that would be potentially less dangerous, and the ability to rapidly launch satellites to either replace satellites that are shot and damaged, or to shoot down other satellites that are seen to be attacking other machinery.
The obvious problem with firing metal projectiles at high speeds in space is that they could easily end up either in permanent orbit or could result in the creation of thousands of sharp fragments that themselves end up in perpetual orbit.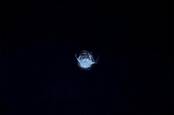 A cracked window on the International Space Station? That's not good
READ MORE
That would create an unpredictable and extremely dangerous situation where anything around the planet could be struck at any time by small objects going at incredible speeds. In turn, that could result in the amount of space debris increasing – collisions resulting in more debris, resulting in more collisions, and creating a chain reaction that soon makes it impossible to venture into orbit at all.
This is not a new concept. NASA space debris expert Don Kessler outlined this exact nightmare scenario back in 1978 and the Oscar-winning film Gravity turned it in a compelling and terrifying disaster movie in 2013.
There are various ideas and plans to reduce the amount of space debris - something that some scientists feel is becoming an increasingly important goal, given a significant increase in such debris in just the past five years – but there doesn't appear to be the money or political will to make it happen at the moment.
There is seemingly both for killer satellites however: Parly said an additional 700 million euros was going to be allocated to a military space budget, in addition to an already allocation 3.6 billion, to fund the space part of a Military Planning Act that will run through to 2025.
But it will all be fine. "France is not embarking on a space arms race," Parly promised. "Our priority remains to guarantee a peaceful use of space." Moments later however a special advisor to the minister noted that the 1967 space treaty "does not prohibit the militarization of space or self-defense." ®