This article is more than 1 year old
Google becomes third major cloud vendor to tie the knot with VMware
More cloud polygamy for Dell EMC's Virtzilla
VMware enthusiasts will be able to lift-and-shift their virtualized workloads directly into Google Cloud before the end of the year, after the two businesses agreed a deal.
Support for VMware software will be based on integrations developed by CloudSimple, the same firm that was responsible for the voodoo magic that made vSphere run on Microsoft Azure.
"This brings customers a wide breadth of choices for how to run their VMware workloads in a hybrid deployment, from modern containerized applications with Anthos to VM-based applications with VMware in GCP," Thomas Kurian, CEO at Google Cloud of twin brother of top NetApp chap George, wrote in a blog post.
Google is the latest of the major cloud providers to sign a dark pact with VMware: Microsoft announced its own deal in May, and AWS has supported VMware tools since 2017, in a much more extensive collaboration.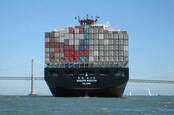 Google: 'EVERYTHING at Google runs in a container'
READ MORE
VMware dominated the virtualization space before the cloud arrived. In a way, it represents the old model of doing things – the first version of vSphere was released a decade ago, and "cloud-native" upstarts are more likely to put their workloads in lightweight containers than full-fat virtual machines. Lest we forget, it was Google that pioneered the use of Linux-based application containers at scale, and later open-sourced Kubernetes.
VMware's deals with cloud providers appear to offer the best of both worlds: trusty old software running on new, flexible pay-as-you-go infrastructure.
"With VMware on Google Cloud Platform, customers will be able to leverage all of the familiarity and investment protection of VMware tools and training as they execute on their cloud strategies," said Sanjay Poonen, COO for customer operations at VMware.
The deal also benefits Google, as it attempts to catch up with cloud market leaders Amazon and Microsoft – who are now communally responsible for half of all public cloud revenues.
Support on GCP extends to VMware's entire software-defined data centre (SDDC) stack, including vSphere, vCenter, vSAN and NSX. Under the terms of the deal, the first line of support for these tools would be provided by the Chocolate Factory.
"In partnership with VMware, we are committed to making Google Cloud the best place to run VMware workloads," Kurian said. ®