This article is more than 1 year old
Microsoft snubs Hololens loyalists by already ending feature updates – even though version 2 isn't out yet
That $5,000 headset you splashed out on, it's done in terms of non-security tweaks
Microsoft will no longer improve the operating system for its Hololens headset, save for security fixes.
The Windows giant updated its firmware earlier this month for the headset but in the notes accompanying the release noted that the "HoloLens (1st gen) is entering Long Term Servicing (LTS) state."
In plain English that means it will no longer update the system to add new features i.e. it is effectively abandoning the kit. It will still provide security updates but doesn't say for how long. The reference to first-generation Hololens is a little unusual given that the second generation isn't actually on the market yet.
You can pre-order a Hololens 2 for a market-busting $3,500 (even the over-hyped Magic Leap One costs $2,295) and that doesn't include access to its developer program, which starts at an additional $99 a month. The original unit was $3,000 for developers and $5,000 for enterprise customers.
Microsoft showed off its updated Hololens 2 at Mobile World Congress in Barcelona in February but it has still yet to give a launch date. So the tech goliath is cutting off updates to its current product – not exactly a glowing endorsement of the technology.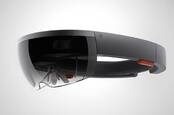 Hola HoloLens: Reg man gets face time with Microsoft's holographic headset
READ MORE
Hololens 2 appears to be a marked improvement on the first headset. It has doubled the field-of-view, which is the most critical metric when you're talking about a headset that allows you to see through the real world, and simulates virtual objects in front of and within it. It has also improved tracking to the extent that Microsoft claims the device is able to follow individual fingers, rather than just your hand's movements, potentially greatly increasing its use.
Microsoft, somewhat weirdly, also claims that the new version is "three times more comfortable" than the now-defunct Hololens 1. Those who have tried it out say that the headset feels less clunky and sits on your head better. It also doesn't require a Microsoft representative to show you how to put it on properly, unlike Magic Leap.
Not ready for primetime
But the fact that Microsoft has decided to simply cut off Hololens 1 is proof that it was only marginally more useful than a proof of concept. And while Hololens 2 is seemingly a significant improvement, it is still not ready for broader public use, which is why the company is aiming the product squarely at business.
This week Microsoft announced support for open-source standard OpenXR on Hololens 2. OpenXR is designed with AR headsets in mind and is a sign that Microsoft is willing to grab adopters wherever they are, rather than seek to control a blossoming AR market that doesn't exist.
In short: if you bought a Hololens, if it isn't already gathering dust, it soon will be. Should you buy a Hololens 2 when it becomes available? Or a Magic Leap One in between? Honestly, no. The tech's not there, and this withdrawal of OS support only serves to highlight how far there is to go. ®